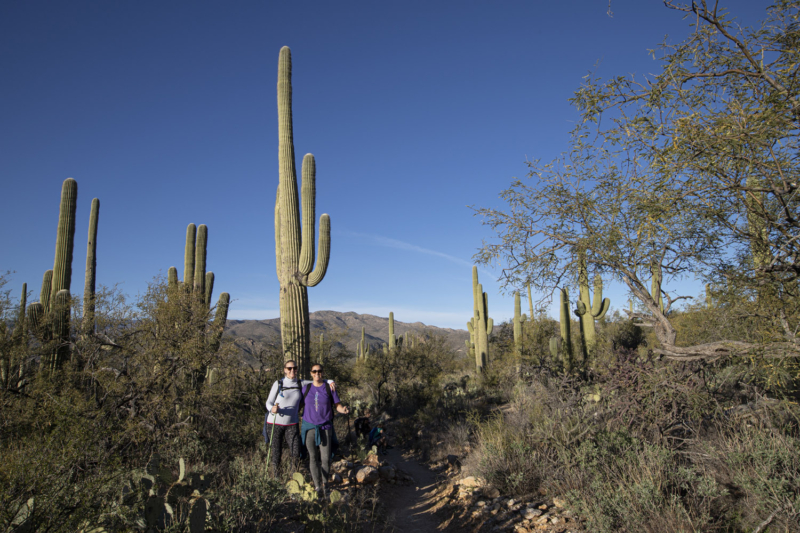 Shelley comes to visit!
We were all excited about Tucson because we'd get to visit Saguaro National Park, but even more because we would get to share how awesome the desert was with my sister, Shelley!   Shelley hadn't been to the desert before and as much as we love it, we thought she would too.  But honestly she could have come to see us in Nowheresville, USA and we would have been expecting to have a great visit.  Shelley's visit was a little different from others, too, because she was going to be staying in the trailer with us.  Good thing we all like puzzles and know how to play Tetris.  
As soon as she arrived we headed for dinner at one of the local spots that is known not only for having authentic Mexican, but also for Clinton visiting during his campaign tour.  We didn't get the Clinton table, but we did get a booth in a colorful nook and had way too much to eat.  Shelley jumped right into her adventure and ordered Nopalitas, which is prickly pear cactus paddles sautéed in a mexican sauce.  I don't think any of us will be craving them anytime soon, but they weren't bad. Kind of like a sour-ish green pepper.  
Our first morning we set out for a hike through Saguaro on the east unit of the park — Sagauro NP is divided into two units with about 30 miles separating them, and Tucson lies smack dab in the middle.  The east unit is on the Rincon Mountain range, so sits higher than the west unit.  We packed our lunch and set off on an 8 mile hike up through the Douglas Springs/Garwood/Three Tank loop, which took us up to the top of a ridge overlooking a saguaro forest and then across and over to a beautiful spring that cascaded down with several pools.  It was a perfect trail to get to show Shelley the cool cacti in the area because in addition to all the giant saguaros, it was full of ocotillo, beaver tail (prickly pear), tons of cholla and more.  The weather was perfect and we got some sun on our arms without being too hot.  We had lunch in a dry wash and got to have our snacks on the edge of the beautiful spring.   After our hike we felt we had earned some roadhouse food, and stopped at a local tavern for burgers and comfort food.  
Shelley and her family got us a game for Christmas called "Parks" that is all about the national parks.  It is so complicated that it took us several hours to figure out how to play it the first time we tried….but we persisted and we now love it and play it at least twice a week.  We had all been looking forward to playing with her.  She didn't have as much trouble figuring things out as we did the first time, but we did have to do a lot of 'splaining.  She caught on alright though, because in her time with us we played twice…and she won the second game.  
Our second day in Tucson we made our way over to the west unit of Saguaro and took a hike that started at Signal Hill, a site with some amazing petroglyphs.  This hike was only about four miles, but had far less variety of scenery, so it felt kinda long.  We also had to walk about a mile through a dry wash…which is like walking a mile through loose sand…not easy.  But, we were happy to learn that our hikes qualified us for their "hike for health" challenge pins.  We now have two of them, having gotten our first one at Organ Pipe, and are hoping that more of our future stops are participating.  
While in Tucson, we were staying in a KOA for the first part of the week.  Staying in KOAs isn't our favorite, but it does have certain benefits.  At this one, they have a good mailroom, so a few weeks prior we had submitted a big amazon order….when we got there we had NINE packages waiting for us.  It was like Christmas all over again.  The most unique thing about this campground, though, is that there were mature citrus trees at every spot, and we were visiting at the perfect time because all of the fruit was ripe.  We had a lemon tree at our site and one morning the kids picked about a dozen of them and we made lemonade.  Not only were the lemons perfectly juicy and ripe, but squeezing all those lemons made our trailer smell SO good.  After our success with the lemons, Shelley and the kids set off to find some oranges. They found a tree with a really nice gentleman at that site who helped them pick them.  We juiced them too and it was fantastic…but it's just a lot more work to get five full glasses of OJ, vs enough lemon juice to make a jug of lemonade.  Before leaving we picked a whole bag of lemons and I ended up freezing enough for two more batches of lemonade.  Such a treat!  
Before leaving our "city campground" we went for an early mass at the San Xavier Mission, just outside of Tucson. This mission was cool for so many reasons… The mass was fuller than any we've been to so far, with standing room only (and we were at 8AM mass!).  In fact, people just kept coming in, the entire mass.  And when I say, the whole mass, I mean all the way up until communion started people were still coming in and joining mass. Apparently, so long as you make an appearance before the priest leaves, it counts!  Also, the mission has been partly restored, so you have half of it that is pristine white adobe and looks perfect next to part that hasn't been restored which has a "patina" of age to really make it look cool.  Finally, this mission is on an active Indian reservation, so after mass there are food vendors in the parking lot.  We had some fry bread with cinnamon sugar and powdered sugar.  They also had Indian tacos and we should have had one of those…but it was only 9 am, after all. 
One of the things Shelley had been interested in doing was dispersed camping…when we go out into a less developed area and camp in "wilderness."  We had hoped to be able to do that while she visited, but after talking to a few rangers we didn't think we could make that happen.  Instead we found a state campground called Gilbert Ray that had openings and was at least somewhat more "natural" than a KOA. Frankly, we really wanted to find something with a bit more nature and space too…  Gilbert Ray turned out to be about 10 minutes from the entrance to the west unit of Saguaro and it was perfect.  All the sites have greenery (mostly cacti and creosote bushes) around them so you don't feel like you are right on your neighbors, and the surrounding landscape is gorgeous, with stretches of flatlands full of the tall sagauros sticking up into the blue sky and mountains in the backgrounds.  The desert sunsets are more than spectacular.  Every. Single. Night.  We also got to hear a few coyotes in the distance one night.  A great contrast to our city camping. 
Our first day in Gilbert Ray was Super Bowl Sunday…Wyatt had been gearing up for watching the game for weeks.  We had a great menu planned of campfire nachos, bean dip and chips, and quesadillas.  The cell service was miraculously strong enough for us to stream the game, and the weather was perfect for hanging outside, even after sundown, so we set up our laptop outside and watched the game in the desert.  The sun set right at halftime, so we missed the JLo show and didn't regret it for a second.
Earlier in the day, Maya, Shelley and I had walked through a bit of the desert around our campground.  We set out to look for a cholla rib; the cholla cactus has a very cool inner structure that looks like a honeycomb.  When they die the outer flesh/needles fall off and leave the honeycomb limbs.    The walk was somewhat spontaneous so we all had on flip flops — NOT the advised footwear for the desert.  About 5 minutes in Shelley got a huge cholla burr/sticker right in the inside arch of her foot.  And when they stick you, they really get in there…we had to sit down, take two rocks to pinch it, and pull HARD to get it out.  After it finally came out, she said she was actually kind of pleased that she had a cactus "battle scar" to take home with her…her foot still had three red dots on it 3 days later.  
Our final day together, we drove over to the Biosphere 2 for a tour of the facility, where they are still running all kinds of studies on topics related to environmental sustainability and recovery.  We were taken through their environments:  desert, tropics and ocean, and we got to see the area where the eight scientists had lived during the two year "lock in."  I hadn't realized that they had so few daily calories and a lowered oxygen level that rarely had the energy to climb stairs to get to the library on the third floor.  Add to the fact that they only got one cup of coffee every two weeks, and it's no wonder that there were some strained human interactions during that time.  The coolest room by far, though, was the giant "lung" that worked to maintain even pressure even when temperatures fluctuated.  
We were so glad that Shelley came to see us, and that we got to have such gorgeous weather to share the desert with her in.  She was just what the kids (and us) needed…some love from home.  I was really happy to talk to her a few days after she got home and hear about how she wants to do more traveling.  I think  traveling is definitely contagious.  You see an amazing place and want to see more and more.  That's been our experience anyway… 😉