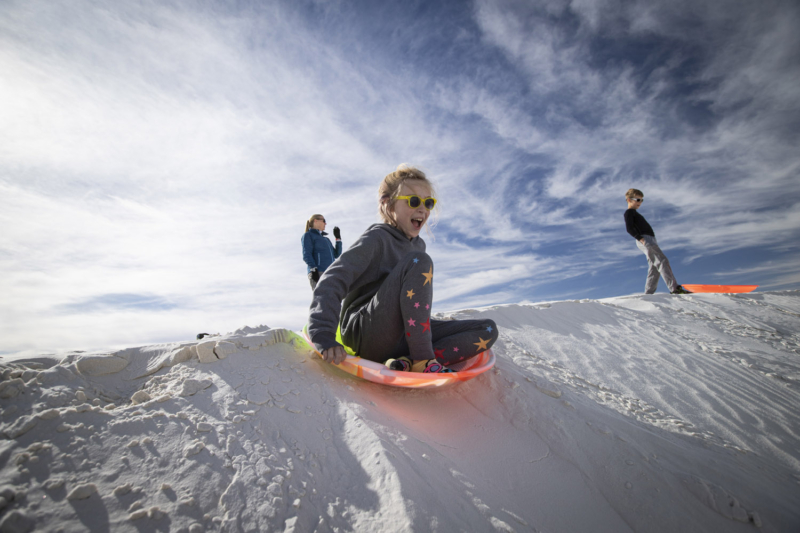 White Sands:  the 63rd US National Park
White Sands was upgraded from a National Monument to a National Park early this year…just a few weeks before our planned visit.  We were already excited to be going there, but when we found out it had just become the 63rd National Park, we were even more pumped.  Our base for the visit was Las Cruces, New Mexico, which honestly wasn't a huge destination in it's own right…although just north is Hatch, home of the Hatch Chile, and a cool hot spring town called Truth and Consequences.  In the end, it's a good thing there wasn't a giant list of things we wanted to see there, because our furnace went out the first night we were there…and the temps were in the 40s that night.  So, we spent one whole day waiting around for the mobile RV repairman to come out to us.
But!  The sand dunes were amazing!  White Sands is the largest gypsum field in the world, and the sands there are made of pulverized selenite.  They truly are white as snow, with some of the dunes rising up 30, 40 feet or higher.  You have to have sunglasses while you are there or your eyes would be in pain pretty quickly. There is a nearly constant wind, which is constantly shaping and reshaping the dunes as well as adding more of the selenite sand.  
The best part about the dunes, though, is that they are basically a giant playground. Unlike some parks, you can go wherever you want.  And the main activity there is sledding down the steep faces of the dunes…in fact they sell round disc sleds and blocks of wax in the gift shop. Sledding turned out to be so much fun that we returned the next day and brought a picnic lunch so we could hang out on the dunes a lot longer.  Even Dennis and I took a few runs down the hill.  The hardest part was climbing back up.  We quickly figured out that it was much easier to walk to the side where the sand is more packed than it is on the face.  But the kids, with all their relentless stores of energy, just charged straight up the hills.  I can't believe their legs weren't killing them the next day.  
Almost immediately, Wyatt decided he wanted to try to sled standing up.  And it took him quite a bit of practice, but he did get pretty good at it in fact.  Our second day there we met another family, and they a waterboard with them that they used to "snowboard" down the hill.  Of course Wyatt got that right away.  I was impressed that even Dennis tried a few runs standing up and didn't kill himself!