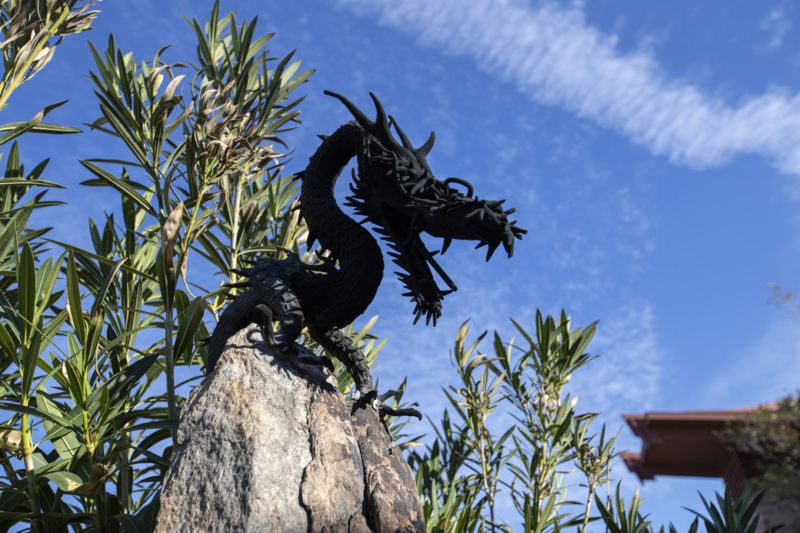 Visiting the Valley of the Sun
Dennis and I had spent a long weekend in Scottsdale a few years ago, so we were really excited to get back and explore some more.  Phoenix is kind of a strange city…the whole place looks brand new, like the whole thing has popped up in the past 20 years, yet it does seem to have a genuine personality and some "soul."  
We got to town one night earlier than planned because I desperately needed a root canal, and we found someone who could fit me in, thank goodness.  We didn't want to have to be rushing to the appointment, screeching up to the front door with the Airstream, so we came on in a night early from Organ Pipe.  That early arrival allowed the guys to catch a Phoenix Suns game, while Maya and I went to see Dr. Doolittle.  Which, btw, I did NOT think deserved the worst movie reviews ever…NO WAY was it even close to as bad as CATS.   Before the game/movie we went to a pizza place that seemed similar to our hometown fave (Coal's) called Pizzeria Bianco.  It was indeed delicious…and later in the week we found out it was on the list for the top 50 Italian restaurants in the US!
The next day, while I got my root canal (by this time I was SO HAPPY to be getting some relief that I was actually looking forward to the appointment), Dennis and the kids had another great meal at a place called Culinary Dropout, and then played on the playground for a while.  Now that football is officially over, Wyatt is FULL ON focused on basketball.  As in, every single day he asks a least 3 times if we can go find a hoop somewhere.  So, it was great for him to get some shooting time in.  After my root canal, we checked into a hotel for a few nights and I took a glass of wine straight to the hot tub.  A girl's got to have some relief, you know?  We visited Old Town Scottsdale for dinner and found another great meal at Nonna Urban Eatery…that's three terrific meals in a row if you are counting.  Nonna's had homemade pasta and we all practically licked our plates clean.  
Friday, we turned the reins over to the kids.  When we were leaving Organ Pipe one of them asked why they never got to make all the choices…so we agreed for them to handle a full day of plans, top to bottom.  Once we agreed, they had a lot of fun planning the types of things they might want to do, if they could find it.  I think they discussed everything from indoor skydiving to cliff diving to laser tag.  Once we got within cell range, they figured out how much work it is to actually find places when you don't know anything about a city, and make plans that can work out.  In the end, Maya found an indoor adventure park called KTR and Wyatt found the restaurants.  
For lunch on the kid's day, we went to Los Sombrero's, a terrific Mexican place that had all our bellies happy. The only bad point was that there were bees bothering the heck out of Maya as we sat on the patio.  KTR turned out to be great.  It was a combination trampoline park/parkoucourse/Ninja course/dodge ball facility, and the kids had a blast.  Finally, for dinner that night we went to Cholla Prime Steakhouse, which was in a casino.  When Wyatt told us we were going to a casino, Dennis and I were both a bit skeptical.  But, he immediately followed up with what kind of online ratings they had, and some of the comments other diners had shared.  We were both a bit proud of how he'd researched it.
 And, he turned out to be right.  It was a really small place, but they had really good food (especially for the prices), with prime steaks, and terrific service.  
Saturday, we set out to hike Camelback, which is one of the iconic Phoenix "must-do's."  Except we didn't.  When we got to the street where hikers park (there is not an actual parking lot for the trailhead, you are supposed to park along the road nearby), we couldn't find a spot within a mile of the trailhead.  There were hundreds of cars parked along the roads.  And, we have really been spoiled by having all the hiking trails to ourselves lately — sometimes we won't see a single other person on a trail and we LOVE it.  The thought of hiking in a single file line with hundreds of hikers just did not appeal to us.  So, we bailed and went over to the Desert Botanical Garden instead.  Not everyone will agree with our decision…when we posted it on instagram we got several "you must go back" comments.  But…we are kind of spoiled by jaw-dropping hikes that we have all to ourselves, and honestly we felt ok letting this one go.  Maybe on a future visit.  
Desert Botanical Gardens is hosting a collaborative exhibition with Cracking Art, which is the group that does the 21c penguins.  We made a great choice by going there.  They had fantastic walks through gorgeous plantings, the Cracking Art displays added a lot of whimsy and fun discoveries, and the botanical gardens were chock full of active birds.  Additionally, from the gardens you have terrific views of the Papago Park, which features a really pretty red rock formation. 
After lunch at Cien Agave (our first mediocre meal…and actually it was pretty good, just not on par with our first four meals in town) we explored Old Town a bit more.  We unfortunately wandered around the part that is almost 100% typical southwestern souvenir shops, but it was still neat to look at some of the turquoise jewelry, native american art, and such.  We made it back to the hotel in time for the kids to swim a bit and for us all to watch the UK basketball team beat out Texas Tech in overtime (shew) and then we had a dinner that might have been good if our service hadn't been so awful (as in they forgot about us…more than once).
Our final visit while we were in Scottsdale was to visit Taliesin West, which was Frank Lloyd Wright's "winter camp."  Having visited Taliesin in Wisconsin in the first week of this trip, Dennis and I were really excited to see his warm weather home, especially since he was well known to design based on the surrounding land and use local materials.  We expected it to be somewhat similar in style, but to definitely have its own spin.  Turns out that he situated the house to be feel like a ship sailing into the desert valley.  He chose a few symbols to repeat throughout the property:  triangles, and the interlocking squares that he adapted from a petroglyph.  The latter he said remained him if interlocking hands and stood for fellowship, which he connected to the "school" that he created for his interns who stayed (and worked a lot) on the property.  
It amazed me that initially the house had no windows, and was intended to be open air…apparently his wife insisted on windows after a few years, and who can blame her?  In his mind the property was a "camp" and meant to be more casual than the Wisconsin house.  But, the dust and cold nights must have been frustrating.   Even if he intended for it to be a camp, it was obvious that once they lived there full time, that place became less of a camp and more of an estate…for example they added a theater and hosted black tie dinners regularly.  The property had many of the signature features you expect from him:  the compress and release entrances, lots of clerestory windows and natural light, exposed materials, built in furniture made of plywood scraps and lots of fireplaces.  He also used canvas panels on the ceiling to diffuse light from above, and the local rock and sand to create the walls, which was redder and coarser than the materials in Wisconsin.  It was also interesting to learn that many of the apprentices lived their whole lives on site in cottages or outbuildings around the property, with three of them still living there today. 
After bunking up in the hotel in Scottsdale for the weekend, we headed back out to our camper which was just north of town at Lake Pleasant.  Lake Pleasant is a reservoir and marina, and the campground sits high above the lake with terrific views.  In fact, its was a perfect location to appreciate the amazing desert sunsets.  Each night the sky out here puts on a show.  If the skies are clear, the whole horizon has an orange glow which fades to deep blues.  And if there are clouds, the show is really amazing with blazing streaks of orange and pink and purple cotton candy clouds all around you.
The park has some resident wild burros.  Not only did they visit the campground, braying and barking up a racket until 1 am one night, but we also got to do a fairly short (4 miles, I think) hike along the lake where they hung out.  On that path, we came across several groups of them.  One burro snorted at us a bit; she seemed to have an older baby with her.  But all of the rest of them could have cared less that we were there, and even walked right in front of us, munching on grasses the whole way.  They were so cute!
While in Phoenix we also got the chance for me to catch up with a colleague, and be lucky enough to have enjoy their hospitality in their home.  Anto and his family welcomed us for dinner and we were grateful for the dinner around a real kitchen table.  I loved catching up on his new work and getting to hear his family stories.  And the kids loved playing with their kids — I think Maya wants her own light saber now.  It was an awesome treat on the road.