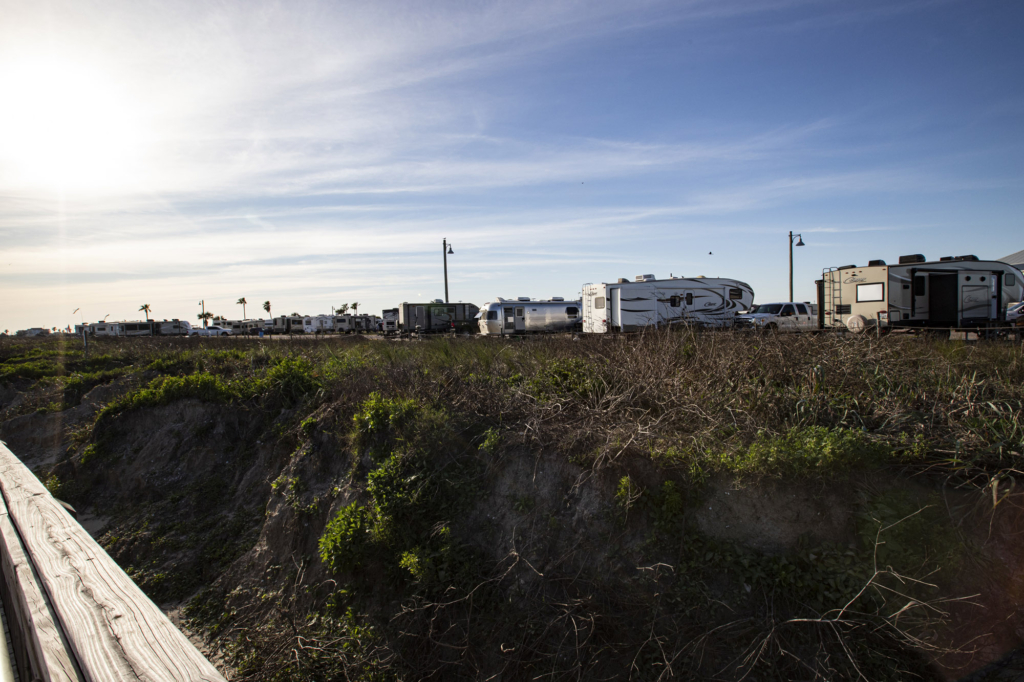 Our first stay in Galveston
We had really gotten spoiled on our drive through Texas. The majority of it had been on highways and back roads but that changed on our drive to Galveston. To get there we had to get on I-10 and drive around Houston. It's not that it was bad, it was just far from the scenery we had been enjoying. It was basically urban sprawl after urban sprawl. The one bright spot was we were able to stop at one of Texas' most beloved retailers, Buc-Ees. For those of you who are not familiar with Buc-Ees, it's a Texas gas station chain that's a combination of mega pump station with a massive retail space. Imagine roughly 80 pumps and a store that's about the size of your typical Kroger. It's crazy. Just outside of the store's entrance they sell smokers ranging from smallish sized ones to massive smokers that could literally feed an army. Inside they have everything you'd expect (cokes, salty snacks, candy, etc…) but just way more of it. There's a large area dedicated to all things with the Buc-Ee mascot. A Cracker Barrel-like "home decor" area. A deli station with prepared-to-order hot and cold items. And a jerky bar. And when I say jerky bar, it's a selection of about 40 different types of jerky sold by the pound. There's even a guy behind the counter who offers samples a-la Baskin Robbins. Of course we loaded up on snacks for the remainder of our drive and considered it well worth all of the hype.
Our spot in Galveston backed up to the Gulf which was fantastic – especially since this was our final beach stop. The weather however was less than ideal. It was warmish and although we had some fairly strong winds and spots of rain throughout our stay there, we were still at the beach. 
The town is like a lot of the coastal tourist towns that line the Gulf, so we had expected the food to be just OK, but we were pleasantly surprised. On our first full day I was on the quest for fresh oysters and our search led us to a local bar called the Black Pearl. Their oysters on the half shell were huge, fresh and so-so good. We devoured our warm-up of a dozen and a half in no time. Because one of our future stops was New Orleans, we thought we'd prep ourselves by ordering po-boys. We probably could have managed to have split one between us because it might have been the biggest and most loaded po-boy I have ever had. My French bread was buried in an absolute mound of crawfish and the same went for Wyatt's and Nikki's oyster-filled versions. Definitely a great start.
One of the great things about the Gulf is the access to all of the amazing fresh seafood. Our second restaurant stand-out, Blvd. Seafood, really took advantage of it.  Not only was the fish local, but the entrees came marked with small plastic tab with a QR code printed it on it. When you scanned the code it told you when, where and who caught the fish. Our fish had been caught only a couple of days before by Captain Paul Hopper, he used squid as bait and it was all delicious. We all agreed that it was one of our favorite places we had eaten at in the second half of our trip. 
After dinner we hit the links and played mini golf. It was one of those typical beach tourist attractions with massive obstacles at each hole. From a hillbilly outhouse to a giant conch shell, we all had our share of really bad holes, but we all managed a few good ones too. Sadly none of us made a hole-in-one on the final hole which would have won a free round, but we all had a great time nonetheless. 
The weather pretty much kept us away from enjoying the beach so we headed to NASA's Space Center Houston. A couple of years ago while visiting Nikki's dad in Florida we went to the Kennedy Space Center and loved it, so we were excited about checking out its sister in Houston. But before going to the Space Center we needed lunch. Maya had been wanting sushi and we found a great little sushi place right down the street from the Space Center. Everything is bigger in Texas, and sushi portions apparently are no different. We ordered their lunch specials and when our individual sushi platters came out they were huge. Like big enough where the four could have shared a couple of orders big. We all left happy and full. Next stop Space Center Houston.
One of the first things you see when you pull into Space Center's grounds, is the massive 747 with a space shuttle riding piggyback. The shuttle is a replica of the Independence, but the plane is the actual plane that used to carry the shuttle when they tested the viability of landing. Later the plane was used to transport the shuttles back to Cape Canaveral for future launches. In total in logged over 200 trips as a shuttle carrier.
Inside the visitors center there are tons of interactive exhibits. There was a temporary exhibit called Bionic Me that focused on how tech can enhance our abilities with things like jet packs, robotic arms and even prosthetic legs. The kids had a great time exploring and playing with the various exhibits while we waited for our shuttle tour of the massive campus. 
Our open air tram took us into the heart of the campus which was built like a college campus so it could encourage collaboration amongst all of the engineers and rocket scientists. We passed several nondescript buildings dedicated to everything from figuring out how to get us to Mars to developing the materials needed for space travel. Our first real stop of the tour took us to their Space Vehicle Mockup Facility. Outside it looked pretty much like a warehouse, but inside there was a long viewing platform which allowed us to look down at the engineering teams as they worked on full-size capsules and self sufficient housing pods which could be used for life on the moon or beyond. One of my favorite areas was towards the end of the walkway, where a team was working on life-sized robots. They looked like they could have been characters in Star Wars. The hope is they could deploy the robots to test various conditions before sending in astronauts. R2D2 where are you?
Our second stop took us to Rocket Park which was also housed in a warehouse-like building. Inside was a restored Saturn V rocket, which from end to end is longer than a football field. It really put things into perspective for how big and powerful those rockets were and what it takes to actually send someone into orbit. 
We rounded out or day with a second tram ride but this time to the Apollo Mission Control Center. The completely restored control room is where NASA's team help guide the all of the Apollo astronauts. We sat in an auditorium as the control room came to life with an audio/visual recreation of the historic Apollo 11 landing on the moon. It was pretty fantastic and you could feel the tension in the air as the recordings replayed the dialogue between NASA and Neil Armstrong, Buzz Aldrin and Michael Collins. 
We said goodbye to Galveston (for now) with a quick ferry ride across the Gulf as we headed toward Louisiana.