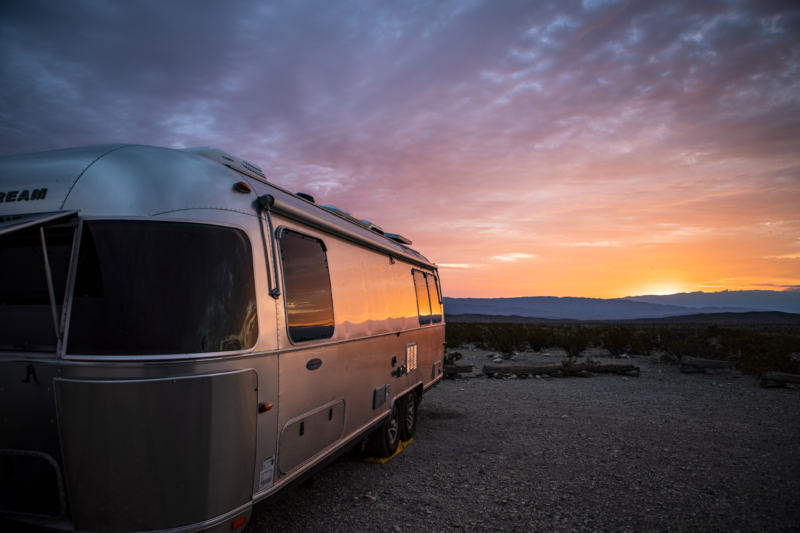 Big Texas Skies at Big Bend
After our bad campground in an interesting little town, we headed to a primitive site inside the park.  We had reservations for a spot called K-Bar 2, which sat about 2.5 miles off the main road down a gravel path, and was about a mile from the closest other campsite.  We had peeked in on it on our way Balanced Rock hike, and felt great about the setup there and how much space and openness we would have.  For some reason it had some bad reviews in various campground websites, but we all disagreed with them.  One complaint was that since you were at the end of an access road, anyone who drove back would turn around right in your campsite.  In the three nights we were there, only 4 people came back (that we knew of) and one was a jogger.  We did have a Canadian couple show up one night and ask nicely if they could park their camper van back with us because the park had double booked K-Bar 1 which was a much smaller site.  Our site was really large, so what could we say?  They set up quietly and left shortly after dawn.  
Overall though, we could find no faults with the site.  We had the Chisos Mountains in one view, and another mesa-style range in the other direction, with a huge wide open valley all around us.  We could barely see the lights of cars driving by on the main road and couldn't hear a thing other than ourselves and the wind.  The sun was out nice and strong for all but our last day there, and the weather was perfect.  The skies were cloudy…which is great for dramatic sunsets, but when you are in a dark sky park (which Big Bend certainly is) the clouds are a bit of a bummer.  The first night in our spot, though, the skies were clear enough to see the Milky Way, and in fact we slept with our window shades up.  I woke up a few times that first night and the stars were bright enough that I could see them out the windows from our bed.  
As good as the sunsets were, they were matched by the sunrises.  And since we were sleeping with the shades up, we woke and looked out the foot of our bed to see the sun gradually fill the sky with pinks, oranges and golds.  The kids each came up to cuddle with us one morning and see the mountains gradually wake up, with the sunrise our last morning there being one of the most vibrant we've seen so far on the whole trip.
They tell you to watch out for javelinas and there was even a food box at the site we were supposed to put our cooler in, so we were hopeful that we would get to see some of the little pig-like animals.  But…no dice.  We didn't see a single one the whole time.  I guess javelinas are our new big-horn sheep or tarantula.  Maya and Wyatt were excited to get the BB Gun and the bow and arrow out and shoot some targets, which seems to be our tradition for when we are in primitive sites.  Maya continues to be the sharpest shot of us with the BB Gun, but Wyatt did fairly well with the bow this time.  
While we were looking around the campsite, Maya also found some rocks that a previous camper had painted with really cool animals and patterns.  She chose one for us to take with us and then she and Dennis and I each painted a new one which she added to the existing pile and left for a future camper to find.  
The campsite was also centrally located, a real bonus when you consider how big the park is.  So, how big is it?  Well, more than a few people in Texas were sure to point out that Big Bend was HUGE.  Bigger than Rhode Island.  The biggest county in Texas, with the smallest population.  Way bigger than little ole Joshua Tree…this last comment was from a ranger in the visitor center.  So, we looked up how it ranks with other national parks, expecting it to be behind only a few Alaska parks.  Well!  It's 14th overall and there are even six larger parks in the lower 48…with Joshua Tree just a  few thousand acres behind it at number 15.  Hmmmm.  I think maybe Texas is exaggerating Texas a little…
At any rate, we set out from our primo campground to hike the Lost Mine Trail, arriving at the little trailhead early because we'd been warned that the lot fills up early.  I think that there was only one other spot left when we got there, so we felt lucky as we set off.  The trail begins right under a peak, and the moon had just risen behind that peak, making for a gorgeous view as we started up the path.  The trail is a little less than 5 miles out and back, with the whole first half pretty much climbing uphill, at a pretty good incline.  Along the way we had several amazing views of the valley and other peaks in the distance.  We also saw several century plants (giant agave) that had bloomed and left behind their impressive flower stalks.  I really wanted to see a century plant in bloom…they only bloom after about 60-80 years of growing, and when that happens they put up amazing stalks with yellow flowers in the shape of a huge chandelier, and then they die.  Even after dying the dried flower stems are beautiful, but I can only imagine how pretty they would be in their peak.  I'm still hopeful that we see one later in the trip.  
The top of the trail is basically at the top of a rocky peak, with spectacular 360 degree views all around you.  It's also kind of nerve wracking because there are steep drop offs all around.  We sat and enjoyed our snack while Dennis got too close to the edge in my opinion, but that's basically what happens every time we are at a death-defying lookout.  The way down was much faster, and we had a treat about half way when a little road runner was hanging out at a wide spot in the path and let us get a great look at him. He even posed for Maya's camera for a bit.
On our last day in the park, we headed down to the historic hot springs, where we had planned to cross over into Boquilles del Carmen, Mexico for lunch.  We had read that you could ride a little boat across the Rio Grande (or wade if you wanted) and then ride a burro into town.  It sounded like the town, with less than 150 residents, was a lot more like the "village" we had hoped to find when we crossed back in Los Algondones.  BUT, the border crossing was closed on the days we would be there.  We were really, really disappointed.  But, we still hiked to the historic springs, which turned out to be a winner.
Our hot springs experiences so far on this trip have not been that great.  The springs are usually concrete pools teeming with people, and the water smells like sulphur.  The pools look like classic swimming pools, with the spring water coming through the pool.  I'm sure that a lot of people like the fact that these pools are white concrete and look clean and modern.  But the bathrooms are always full and have that wet bathing suit smell, and it's just not that nice.  This spring, on the other hand, was formed on the side of the river, and while it had been shaped with concrete to form a sort of "infinity pool,"  it was mostly natural.  The same people who like the above mentioned springs probably would think the one at Big Bend was dirty.  Because it's natural water and there is silt and sand in the pool.  But, it doesn't smell at all, and the setting is beautiful with the Rio Grande behind you, and there weren't very many people there with us.  All of us agreed that we much preferred this natural setting and thought it was awesome.  If you got too hot (and the water is 104 degrees, so most everyone got hot) you could drop over the wall into the cold Rio Grande.  The farther you got from where the hot water runs over the wall into the river, the colder the water.  We hung out for about an hour and then hiked back to our car and had sandwiches for lunch in the car….and again cursed our bad luck with not being able to cross in a little boat, ride a cute little mule to Boquilles and have an authentic Mexican lunch.  Next time.