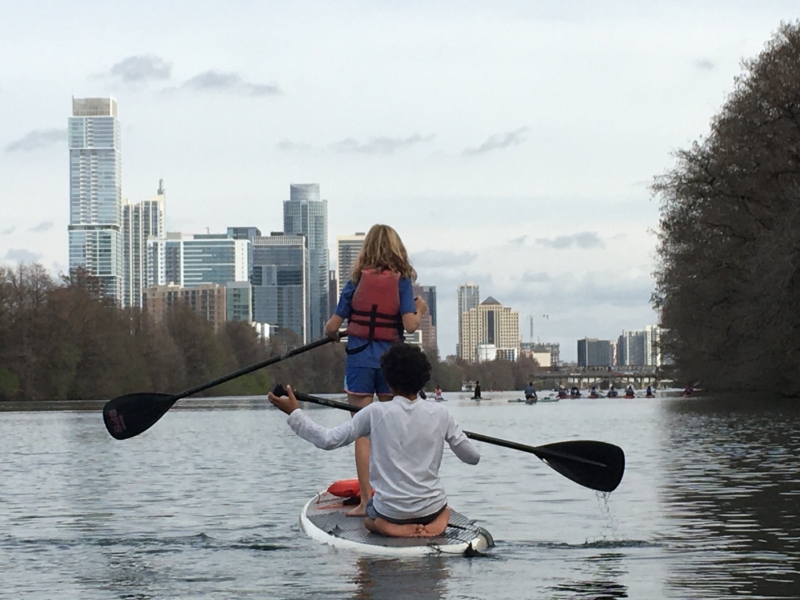 More love in Texas
We rolled into Austin with something a bit more than the expected music, barbecue and hipster vibe to look forward to…Austin was going to be a stop full of visits with friends!
But on our first night, we were surprised by a visitor we didn't expect at all.  We stayed at McKinney Falls State Park, which really feels like you are out in nature, but is only about 10 miles from downtown.  It was an ideal base for us.  Once we got into our site and set up, we were chilling out, and out of the corner of my eye I spotted movement in the trees.  It was a coyote and he seemed to be interested in some food that a previous camper may have poured out on a tree base about 20 feet from our camper.  Since we were all inside and quiet, we were able to watch him for about 10 minutes before he was spooked off.  Maya got some amazing pictures, and even though in those pictures he looks aggressive, he was actually really skittish.  
I had also sent off for some owl pellets, and Maya was excited to dissect one.  Wyatt participated too, but he lost interest a lot faster than she did.  Apparently owls eat their prey whole, including fur and bones, and then vomit up a pellet of the parts they can't digest.  Which my kids were now picking apart with tweezers and their fingers.  They both found several skulls and what seemed to be most of the skeleton of some rodents.  Disgusting but fascinating…and I'm so grateful that we have a girl who is willing to get into stuff like this.  
The next morning, Dennis and I watched the Austin episode of No Reservations (Anthony Bourdain) while we had coffee.  Well, before the closing credits were rolling, Dennis was putting on his pants and grabbing his keys to go wait in line at Franklin's for brisket.  He knew that he'd probably have to wait 3+ hours, but what we had seen and the exclamations Anthony made about it made him willing to go stand in line in 45 degree weather with a bunch of strangers.
Whoa, it was worth it!  The Franklin's brisket is juicy…so  juicy.  Yes it is smoky and has a good bark, but mostly it's just so moist and tender that you want to eat a whole plate of it.  I don't even remember what sides he got.  We ate over a pound of it for lunch and were "mmmming" the whole way through the meal.  
We've visited a few state capitols on this trip so far, and they are always impressive.  We went to see the Texas capitol building while we were in Austin, and Texas being Texas means that it was built to be 14 feet taller than the US Capitol building.  Of course!  Admittedly though, it was a gorgeous, classically-designed building.  The center rotunda is open all way to the top and gives a really open and airy feeling to the building.  The chambers weren't in session so we got to peak in on the Senate and the House, as well as one of the courtrooms.  There are stars in all the details…the door knobs, the brass door hinges, and even the pattern of holes punched into the seat bottoms.  And in more than a few places are sculptures and art honoring the Alamo and the battle at San Jacinto…tributes to Texas winning its independence. 
That evening we had friends over to our campsite to grill out. I went to high school with Steve and have kept up (very loosely…as in every 10 years or so) with him and his partner Erin, and their boys.  Even though we don't connect often, it is always a good evening when we can hang out…one of those relationships where you can see each other every 10 years and pick right up where you left off and have fun.  But here's the amazing part…I found out that Steve has written a young adult fiction book and it's going to be published by Random House this summer!!!  I was so excited when I learned about this…it's one of the more impressive things that I've heard any of my old classmates having accomplished.  I strong-armed him (which probably reflects fairly accurately both our personalities, to be honest) into letting me read a copy and I can't wait to see it come out.  It's a science fiction novel called Me vs. the Multiverse and was a great read.  While we were catching up, the kids made s'mores for a pre-dinner appetizer and then traipsed through the woods looking for the coyote and then being terrified when they heard a random noise that they felt could have been (but definitely was not) the coyote.  It was awesome.  
The next afternoon (after great debate on giving up something sooooo delicious, ha ha) we shared our brisket with one of my work colleagues, Heather, and her husband Peter.  In an extremely generous gesture, Peter brought us TWO BATCHES of homemade cookies.  SO GOOD!   It was a beautiful afternoon that felt a lot like a spring day in Kentucky.  In fact, the campground at McKinney Falls really reminded us of Kentucky…more so than any place we had been in the past few months.  Lots of green grass and trees with leaves budding out. And because it looked so much like home, the random cacti that were sprinkled through the woods looked really strange and out of place.  Maya spent the whole afternoon talking Heather's ear off and taking her on a nature walk to discover flowers, weeds, and all kinds of signs of the spring that was coming.  Maya was in heaven….I can see why Heather's niece thinks she hit the aunt-jackpot with Heather.  
That evening we headed out for the famous S. Congress area of town, which is chock full of restaurants, bars and funky shops.  Here we all met for dinner, including Steve and our THIRD Austin friend we'd get to hang with over the weekend, Bill…also a colleague of mine.  We had some terrific mexican dinners and margaritas, and originally had hoped to hear some live music.  But Steve, Heather, Peter and Bill all got to see what happens when the kids spend a few hours in a restaurant…they do not want to go sit in another restaurant.  Overall they are amazing sports and behave really well when we eat out, so we didn't force the issue and said our goodbyes without hitting a honky tonk.  
Dennis loves visiting the presidential libraries and I will admit they are really interesting too.  So, we were excited to go to the LBJ museum in downtown Austin with Peter and Heather.  I'm embarrassed to say that before this visit I really didn't know much about LBJ's presidency and left with a huge appreciation for his work in social programs and citizen equality.  I even appreciated that he chose not to run vs. press forward in his losing efforts with the war.  It would be great if our current president could be so inspired….just sayin'.  The museum had a lot of interactive exhibits and the kids were pleasantly engaged by it….usually they would be asking to leave after 30 minutes, but this time they made it a good hour.                                               
Bill is a lifelong UK fan now living in downtown Austin, and so we were lucky enough to get to watch the UK basketball game with him.  He and his wife live in a very cool new building right in the thick of downtown and the kids (and us) really liked seeing his apartment and imagining what it would be like to Iive in a city with a Trader Joe's attached two your building.  Wyatt also appreciated having a new UK fan to talk shop with, as he's already worn out all his questions and commentary on me and Dennis (at least 3 times each).  The Cats pulled out a W, so we were all happy.
After the game, Bill waked us down to an outdoor beer garden-style pub called Easy Tiger.  Awesome beer, pretzels and sausages, and the kids got to play pingpong while we waited.  Before we left we went into the bakery and got pain au chocolate and almond croissants for the next morning  What I regret, though, is not getting a t-shirt since they had some of the coolest ones we've seen on the trip.  Next time.  
Sunday was another perfect weather day, so we met the Wilson-Mayes again and went kayaking in Town Lake…which is actually a river, and I think has recently been renamed Lady Bird Lake, but most of the locals still call it Town Lake.  I believe I got that right.  Anyway, we got some kayaks and paddleboards and headed down from Barton Springs (unfortunately it was too cold to get in the famous swimming hole).  It was great to see downtown from the water, and the kids were good paddlers.  Wilson, Steve and Erin's oldest son, even found the prettiest baby turtle, which Maya immediately fell in love with and begged us to keep.   We responded with a hard No and she released it in an area where she saw some other small turtles and hoped it would be able to make some friends.  After our lake time, we checked out another beer garden called Central Machine Works and had some beer and pizza outside.  It was a great cap for our time in Austin.  We left town feeling lucky to have been able to spend 4 days with friends, and with a big tupperware bin full of homemade cookies.  Pretty good stop by any measure!