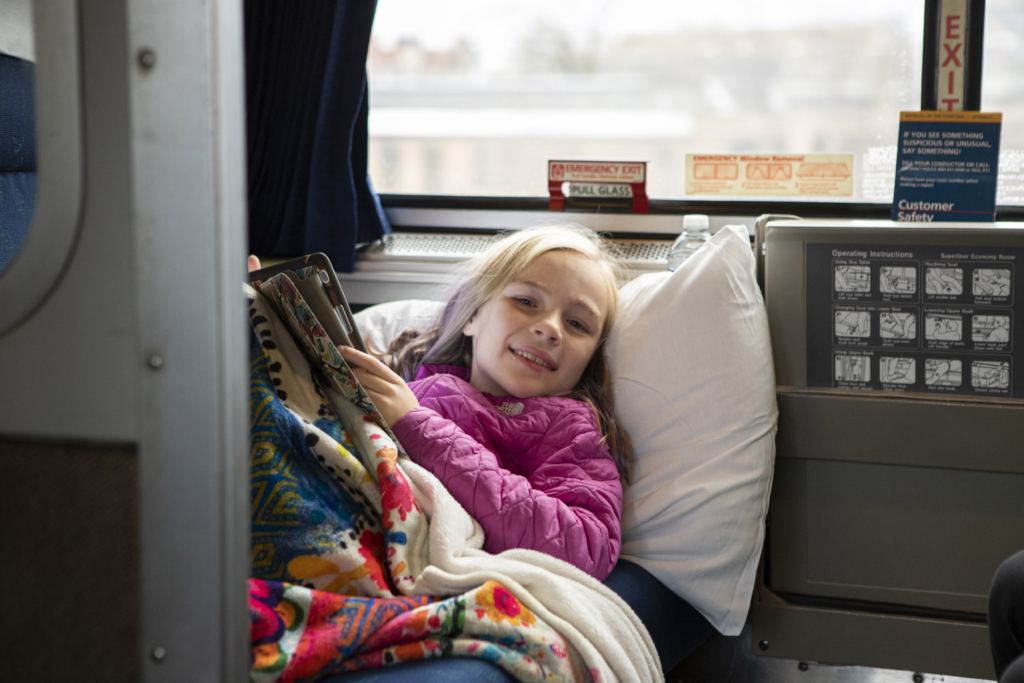 All Aboard the Southwest Chief.
When the golden spike was driven into the ground in 1869 it marked the completion of the United States' continental railroad and the beginning of westward expansion for many Americans at that time. Railroads continued to be the most common means of cross country travel until after World War II when President Eisenhower passed the "National System of Interstate and Defense Highways" building our interstate system as we know it today. The interstate, combined with more easily accessible and affordable air travel, all but killed our once mighty rail system. However, in the words of Monty Python, US transcontinental rail travel "…is not dead yet…" When we returned to our Airstream after "Christmas break" instead of flying back to L.A. we decided to ease into things, hit the travel trifecta (planes, trains and automobiles) and return via Amtrak. 
We flew to Chicago the night before to give us a little bit of padding in case weather conditions turned bad. Fortunately for us the temps were fairly mild so we had almost a full day to explore Chicago.
We hit the ground running and checked out Michigan Avenue before grabbing dinner at Girl and the Goat, a restaurant Nikki and I had be anxious to try since it opened. It lived up to the hype. We shared several small plates and I have a hard time deciding which was my favorite, it was all so good. 
The following day our train didn't leave the station until 2:30, so we took advantage of the bonus time to visit Nikki's cousin Marcie and her family, who three weeks prior had expanded by one. It was great catching up with Marcie, Roberto, Sebastian and getting to meet sweet little Bishop. It was Maya's second time during the break she got to hold a newborn cousin and she clearly loved it! She could have a future in babysitting in a few years. A couple of hours later, we said our good-byes and headed to Chicago's Union Station. 
Maybe it was because it wasn't as busy as a typical airport but Union Station felt so big. It also didn't seem clear where we needed to take our checked bag and where we had to go before boarding. But after a bit of zig-zagging across the station we eventually found the lounge and waited it out until being escorted with our fellow passengers through the station to the Southwest Chief.
I knew our train compartments would be small but they ended up being much tighter than any of us had anticipated. Imagine a room with two large chairs facing one another with just enough room between them so your knees don't touch, then maybe an extra foot between the seats and the door. That was it, spacious huh? Across the narrow hallway was our second room where the kids stayed. It took us a bit of getting used to, but once we did it actually wasn't bad. After all we had been living the past six months in roughly 200 square feet, so what's tight quarters for a mere 40 hours?
When you have the time, traveling by train is relaxing. We caught up on reading, played board games, and built Legos, all while watching the midwest roll by our window. For dinner we walked to the next car and ate in the dining car. Maybe it was the setting. Maybe it was because it was later in the evening, but the food was surprisingly pretty good. One other surprise was because we had crossed into Iowa on a Sunday evening, we had to abide by their liquor laws. Apparently ground level state liquor laws apply, and since the train was in Iowa, they couldn't sell us liquor.
Sleeping on the train was a bit of an experience. Each room has a single bed plus a bunk that pulls down from above. Climbing into the bunk without bumping my head and getting situated was a challenge but I managed. Getting to sleep wasn't a problem but staying asleep was tougher. The tracks through Kansas and beyond were bumpy and the bed wasn't ideal but we survived. The next morning we woke up somewhere in northern New Mexico.
The scenery on our second day was great. It varied from desert landscapes dotted with cactus, to mountain ranges, to canyons. The train stops in towns and cities along the way so you get to see places like Raton, Lamy and Las Vegas (aka the "other Las Vegas".) And in some spots, like Albuquerque, the train makes a longer stop and we were able to get off the train long enough to grab some snacks and check out a little bit of the town.
I don't know if we had gotten used to the movements of the train or if the tracks were smoother across the southwest, but I think everyone slept better our final night. We woke up just outside of Los Angeles in San Bernardino and watched as people made their morning commutes.
Overall the kids really liked it too.  Wyatt thought the train was "pretty cool and a chill way to travel." Maya was glad she had crafts and   her Lego set she bought in Chicago to keep her occupied and would do it again because it was "fun and cool." How's that for a couple of ringing endorsements from the younger generation? Maybe there's hope for our rail system after all.
When we arrived in L.A. at roughly 9:00 a.m. we decided to make a quick detour before grabbing the trailer and getting on with the second half of our trip. Just around the corner from L.A.'s Union Station is Phillppe's, the birthplace of the French Dip sandwich. We've been trying (unsuccessfully) to eat the "official sandwich" of every state we visit. California's is the French Dip, so why not grab one at its birthplace, regardless of the time of day?
Phillppe's The Original is pretty old school. They have sawdust on the floors and it reminded Nikki and me of some of the old New York delis. My guess is for the most part they haven't changed much since they moved into the space in 1951. The sandwiches were good. Many people have certainly improved on their concept over the years, but there is something to being the first.
With our bellies full of meaty, au jus goodness, it was finally time to hit the road. We're excited to see what he second half of our trip has in store. Onward!