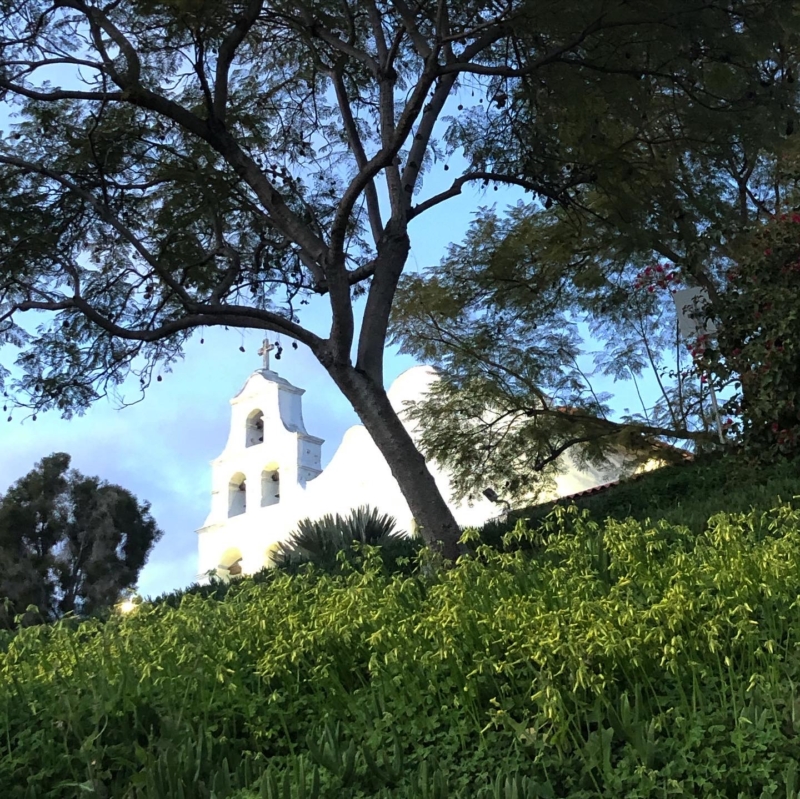 72 and Sunny in… San Diego
San Diego was a town we had all been looking forward to…have you ever heard ANYTHING bad about San Diego?  It turned out to be a great place to get back in the swing of our camper living.  Unlike some larger towns, we were able to find a campground relatively close to town, in Chula Vista at the marina.  Once we got set up, we set out for a recommendation we'd gotten from the rangers at Carlsbad State Park:  Las Cuetro Milpas.  They had told us not to be scared off by long lines out front and that the authentic food would be worth it.  It turned out to be fantastic.  No way we would have found this place otherwise, but there was indeed a line even at 11:30.  We cued up and got tacos and rolled tacos, watching the line cooks drop tortillas that had just been made in the back into the giant pot of boiling oil.  They were hot and crunchy and all kinds of delicious.
After filling our bellies we headed to the USS Midway, a decommissioned aircraft carrier that sits in the San Diego Harbor.  Dennis was especially excited to tour the ship, but we all had a lot of interest in it.  My Papaw was a "plank owner" on the USS New Jersey and a few years back we got to do a VIP tour with him and sleep on the ship overnight in the bunks.  An amazing experience, and one that we all love to reminisce about.  As big as that ship was, though, the Midway is HUGE!  The deck is large enough to park dozens of planes, with room for taking off and landing.  The tour took us through sleeping births, a gee-dunk stand, the communications center, and the squadron HQs where groups of pilots would be briefed before and after missions.  In the service level of the ship, the kids got to crawl into several plane cockpits, and also got to fly a simulator.  Note:  I strongly advise never flying with either of them.  They did loops, rolls, flips and purposely crashed repeatedly.
Day two we headed to Balboa Park which is a gorgeous museum campus and park with dozens of elaborate "mission revival" style buildings.  The buildings are interesting enough to be an attraction in their own right, with white stucco exteriors ornamented with plaster roping, statues, plants, and all manor of decoration.  Painted tiles, fountains and beautiful plantings create a beautiful setting for the museums, gardens and zoo.  We spent the afternoon in the San Diego Museum of Art and asked the kids to each sketch two works.  Surprisingly they both chose one of the still lifes as their first piece.  An art museum isn't their favorite excursion, but Dennis and I really enjoy wandering through all the different rooms.  And although I find it a bit jarring to go from a Dutch masters room into a room full of surrealist pieces, I do like the "sampler" effect that you get from a museum of this type.
For dinner, we met one of Dennis's Final Four/college buddies for dinner at a great mexican restaurant right in downtown called Puesto.  Eric ("Moose") brought his daughter along and Maya was thrilled to have a teenage girl to talk to.  The guys traded commentary about past and future UK games and spent about 90% of the time we had together analyzing the rest of the season and the Cats prospects long term.  Normal night.
Speaking of UK, we had the rare treat of a UK breakfast basketball game while we were in San Diego.  The Cats tipped off an afternoon game against Alabama at 9am PST, getting an early morning win.  I made homemade buttermilk biscuits to go along with the game.  I'd never made them before this trip and have been working on my recipe and techniques. I'm actually thinking that technique matters more than recipe when it comes to biscuits.  At any rate, this batch turned out pretty well.
After the Cats got their win, we headed down to Coronado for the afternoon. So CUTE!  It's basically a resort town on the coast of San Diego, anchored by the Hotel del Coronado, one of the earliest beach resorts in the US.  It's a big wooden hotel, painted white and in a Victorian style with a really large red rotunda that can't be missed.  Lots of presidents and famous people have been there, and we added ourselves to the list of important visitors by having drinks on the ocean front patio bar.  In all seriousness, it is a place I'd love to come back to for a family vacation one day.  You'd have a great beach vacation right at hand, but the sights of San Diego would be just a few minutes away if you wanted something different.
That evening we decided to look for a place to go to vigil mass…and we figured out that we could combine that goal with our desire to visit the first of the California missions.  We went to mass at the San Diego Mission (Mission Basilica San Diego de Alcala).  It was great to visit the campus as a person attending mass, and the mission in the evening sun was beautiful.  The homily was a bit "eh" but we were all glad we got the chance to go to mass there…and imagine that people had been coming to mass there for hundreds of years.