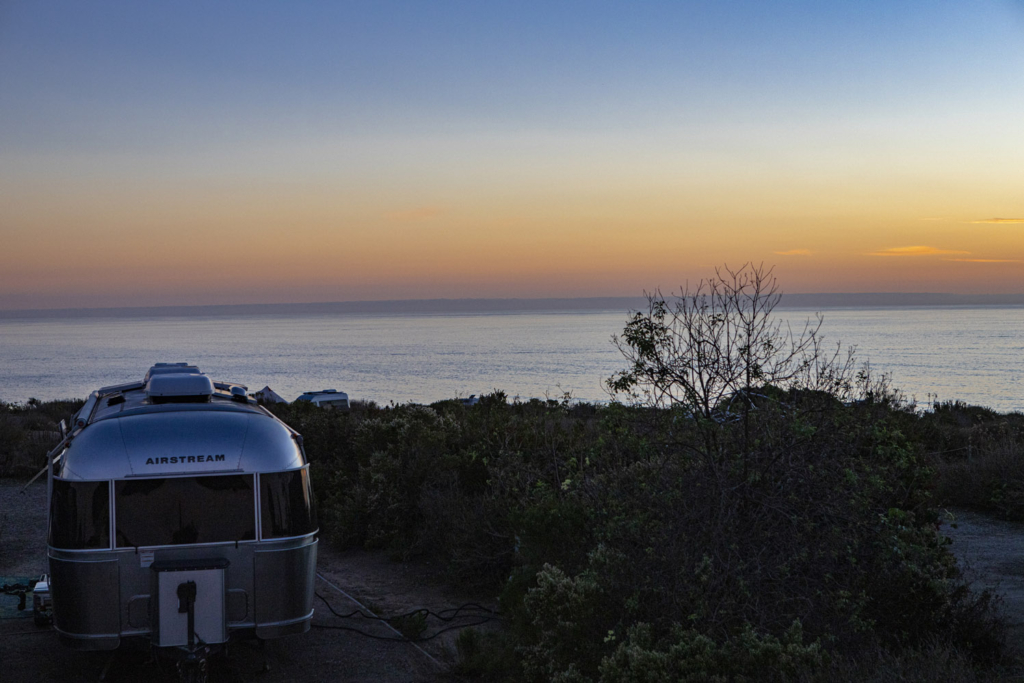 Friends and thrills in SoCal.
We left Palm Springs bound for the LA area, specifically Crystal Cove State Park which sits off the PCH south of LA. When planning this trip, on the list of drive days that were stressing me out the most, this was the top. The thought of pulling through LA traffic caused me a good deal of angst, but honestly it wasn't bad.
As we were driving towards LA, Wyatt mentioned the Rams had a game that night. After checking for tickets and determining the Coliseum was only about an hour from our campground, we decided to do it.  So we helped get things unhooked and settled, then the two of us hopped back in the truck for the game. It took us a while to figure out where to park and the security lines lines to get in were crazy long, but we made it to our seats a couple of minutes after kick-off. It was cool to see a game in such a historic stadium, although it did show some signs of its age. The game ended with win for the Rams, with a few big plays sprinkled throughout. All in all it was a great kickoff to our LA experience and a fun game.
The following day we reconnected with new friends we had met while we were in the Redwoods. The Fischers are the type of people that after talking with them for 5 minutes you feel like you have know them your whole life. If I didn't know better I'd swear they were a long-lost aunt and uncle. Nikki had stayed in touch with them along the way and they invited us to come to their house for lunch. Along the trip so far we've stayed in a few hotels, which have been amazing, but after being on the road for nearly 6 months (and feeling a little homesick) spending an afternoon in an actual home was wonderful. It reminded us of what we have been missing back home. It was comfortable, relaxing and wonderful to catch up with friends. The world could use more people like the Fischers. 
While we were in Ventura a couple of weeks earlier we visited our first Franciscan Mission. Since then Nikki and I have been hooked and are trying to visit as many as we can in our remaining time along the El Camino Real. San Juan Capistrano Mission was a few miles from the Fischers, so after saying our goodbyes we made it our next stop. Of the three we have visited so far, Capistrano felt like it was the largest and is worthy of it's nickname "Jewel of the Missions." The chapel was one of the highlights for me, in particular its incredibly ornate Spanish altar which dates back to the 1600's. According to the story the altar was originally to go in a cathedral in LA, but when the plans for the church were scrapped, the altar was put into 10 crates and placed in storage. When Father O' Sullivan was restoring the Mission in the 1900's he reached out to the archbishop for a new altar and the crates were given to O'Sullivan. It took nearly two years to fully assemble the altar and it was so large they had to raise the roof within the chapel. But all of that extra work paid off because it's beautiful.
The next day the kids and I went to Knotts Berry Farm while Nikki took advantage of having some alone time.  The amusement park is owned by the same group who owns our beloved Kings Island back home. We were excited to check out another one of their parks and we weren't disappointed. Although smaller than Kings Island, it still had plenty of rides to keep us happy. Their wooden coaster, Ghost Rider, which claims to be the longest, tallest and fastest on the west coast, was a blast. Hang Time, the second "beyond vertical" drop coaster we've ridden on this trip, was another standout. And Xcelerator, the 200+' launch coaster was short but so fast and incredibly fun. Of course visiting on a Tuesday in early December didn't hurt things because we basically had zero lines all day.
After a day of thrills our next day was a chill day. We took advantage of our location and took a short walk to the beach. The kids played and ran around in the sand while Nikki and I kicked back and read. The weather was a bit on the cool side, but for being early December hanging out on the beach is still fabulous. A guy could really get used to this kind of December weather and scenery.
About 30 minutes from our campsite is the suburb of Yorba Linda, home of the Richard Nixon Presidential Library. Our earlier trip to Reagan's Library was not one of the kids' favorite stops so I made the visit solo. I've realized Presidential Libraries are completely underrated. Regardless of where you might stand politically, or what you think of a particular president, they're great slices of American history. The  first thing I noticed was the museums jumps right into the social and political turmoil of the 60's, rather than beginning in his childhood or early days. As you walked through the end of the Vietnam War, opening communications with China were all part of his story. But, one of the things I wondered heading into the museum was how it would handle the Watergate scandal. Because as good as Presidential libraries are, they obviously skew things toward their namesake Commander and Chief. But I thought the portion on Watergate was pretty fair and seemed accurate. I have no doubt I'll continue to make Presidential Libraries as part of our stops along the way.
We ended our beach camping with a night just up the PCH at Bolsa Chica State Park. We took in one last gorgeous Pacific sunset and grabbed dinner before packing things up and leaving our Airstream in temporary storage. Next stop Hollywood.