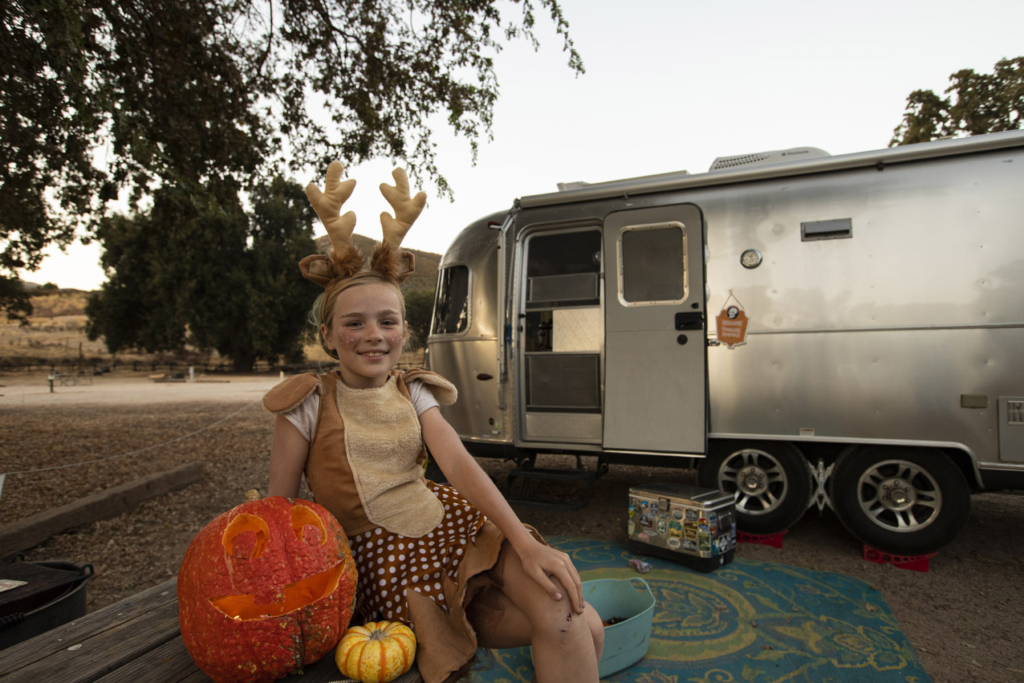 Pinnacles National Park, what a treat!
Pinnacles National Park is one of a handful of parks that wasn't on our original itinerary but as we got into our trip we rearranged our route and worked it in. Actually we re-rerouted things after realizing it made much more sense to visit it after we left Sequoia and Kings Canyon. Pinnacles is also one of the newest National Parks earning its badge in 2013 – although it had National Monument status from Teddy in 1908.
On the way to the campground we stopped to do a seemingly mountain of laundry (glamorous, huh) and thanks to daylight savings time and the shorter days, it was dark by the time we pulled into the campground. Not my favorite way to arrive but the campground was far from full and we backed into our spot and got hooked up without any issue – yay. I will admit the one positive of pulling in after dark is when you wake up the following morning the surroundings are like a surprise. So we woke up to a change of scenery to what we had been experiencing in the trip so far. That day was also Halloween, so Maya decided to take full advantage and wore her costume from the moment she woke up. 
With our deer along for the ride, we made the short drive to the Bear Gulch Nature Center for the Moses Spring Loop. The trail lead us up a small series of rocky switch backs and eventually took us into talus caves. Talus caves are formed by large boulders dropping into tight ravines creating the enclosed spaces as opposed to the more traditional caverns. They were fairly short and thanks to our flashlights, were easy to navigate, but there were moments where we had some fairly tight squeezes. We were pretty lucky with our timing, because the following day the caves were closed as their resident big-eared bats were scheduled to return.  
Leaving the talus cave we climbed out a small carved-out staircase (thank you CCC) and continued up along a tight rocky ledge until we turned a corner and discovered Bear Gulch Reservoir. The reservoir is a smallish lake (or would that be a pond?) nestled among the rocky formations. It's so unexpected. In the dessert-like setting it almost felt like mirage. It was beautiful and we had it all to ourselves – LOVE the off-season. 
After lunching by the reservoir we headed back to our campground. Maya was sworn-in for her latest Junior Ranger badge, her first while wearing a costume, and later she and I carved our giant gourd to get ready for the big night. There were maybe a dozen other campers in our campground, so Nikki talked to her about realistic treat exceptions. They also came up with a great plan: for those campers who weren't prepared for a visit from the Pinnacles Deer™, she would provide the treats and give them pieces of candy. Wyatt and I hung back and watched from the comfort of the Airstream as Maya skipped from camper to camper. When they got back Maya was so excited to show-off her amazing haul. There were few "ohhh-shit-what-do-we-have-to-give-this-kids" like a granola bar, hard candies and a small wooden bracelet, but as the only kid in the campground she hit the Halloween lottery with a few full-size and even KING SIZE candy bars. One couple had even driven to town earlier in the day (which was over 30 minutes away) and bought two giant bags of M&M's, just for her. Fellow campers are just awesome!
On our last full day at the park we drove back to Bear Gulch and set off for final hike of our stay. The Condor Gulch Trail to High Peaks Trail Loop is rated as a "difficult" and is roughly 5.5 miles. The first half is primarily a 1500 foot climb to get to the peaks. Along the way we were rewarded with amazing views of the orange and brown volcanic rock formations at just about every turn. We also had opportunities for pullouts and the kids took full advantage so they could climb on the large boulders. The highlight of the trail is called the Steep and Narrows. The .25-.5 miles of path was carved out by the CCC (Civil Conservation Corps), and had small foot holes, tight walkways cut into the rock faces and a handful of railings to keep you from falling off the edge. Amazing considering it was all made possible by guys in the 1920's hauling up jackhammers and other instruments of destruction to carve out the narrow path.
Towards the end of the trip we did manage (we think) to see a condor or two circling in the sky. What we didn't get to see were tarantulas. Late October is apparently mating season and we were told that dozens upon dozens can be seen crossing the paths and roads within the part. Maybe we just had really bad timing (or terrible eyesight) because despite our efforts we didn't spot a single one. To make things worse, the next day, some fellow campers we had met at the campsite posted a video of one crawling along the road! I guess that means we'll have to come back.