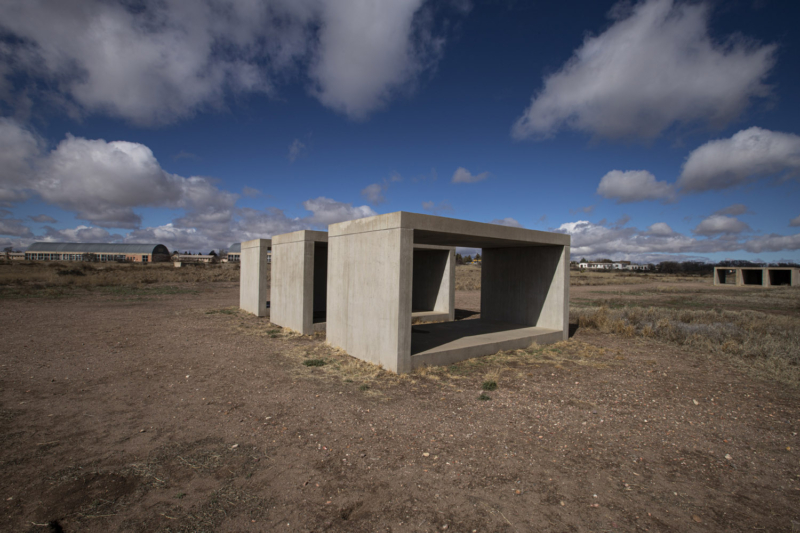 Hanging with the Hipster Crowd in Marfa
After fleeing Guadalupe in the cover of darkness, we pulled into a tiny little town called Van Horn and went to the spot the owners had held for us when we called ahead.  The most remarkable thing to comment on about Van Horn is that the RV park had a little cafe, and they made their own sausage gravy!  We'd been waiting to get back into a "safe" part of the country for ordering milk gravy, and finally, we got there in west Texas.  Wyatt was happy.
After our hearty, southern breakfast we rolled on to Marfa, a little town that has been made famous over the past few decades because of the art installations around the town, mostly by Donald Judd.  It's a place known to be quirky, hipster, down to earth and bougie all at once.  On the drive in we came up to the Prada Marfa store, which is an art installation in the form of a tiny little store with the namesake shoes and purses displayed inside, never to open or actually be sold.  I will also admit, at this point of the trip, with our Airstream parked in front of the Prada Marfa installation I felt a little cliche.
Anyway, we headed onto our campsite, the Marfa Yacht Club which is an Airstream-focused AirBnB with a few extra spaces for people traveling through with their own Airstreams.  They are situated right outside town with a big flat field behind the property.  Now, when we planned to be in Texas in February, we weren't expecting it to be 100 degrees…but we also weren't expecting it to get down in the thirties!  When we got there, an icy wind was whipping across that field straight-on to our trailer…and the furnace fix up in White Sands had turned out to be only temporary.  Sigh.  The MYC owners couldn't have been nicer, though, trying to see if they could clear out the fans and get it going.  No luck.  Eventually Dennis was able to reach a repairman who didn't have time to come fix our unit, but did have a replacement sail switch part on him.  Dennis drove about an hour to meet him, and once he got to the camper was able to replace that part in about 20 minutes and get the furnace back on.  Hurrah!  And not a minute too late, too, because the next morning we woke up to SNOW on the ground.  We weren't really happy about it, I'll tell you.
One of the jokes that the locals apparently make in Marfa is "welcome to town, we're closed" and after a few days, we understood.  The "tourist" trade is pretty much a weekend thing most of the year, so a lot of town was closed early in the week.  We did find a great dinner at the Capri, though.  We were glad that it was a "down" night because otherwise I might not have been comfortable taking kids into such a cool bar/lounge for dinner.  We sat in deep velvet couches in a soaring concrete room and had a "sharing" dinner of anchovy toasts, duck, and a huge steak that was sliced for the table to share.  Maya got to order her favorite cocktail, the Canadian Shirley Temple too.
The next day we set out to see some of the local art, starting at the place that started it all for Marfa, the Chinati Foundation.  The complex (it's a former military fort, so the galleries spread out over many buildings and even a field) has mostly permanent exhibits, and much of the work is by Daniel Judd, who turns out to be one of the main movers and shakers in contemporary art.  We saw his "100 untitled works in milled aluminum" which spread across two whole buildings that had huge windows on either side to let them flood with light…100 metal "boxes" that each was the same outer size, but were constructed to open on different sides and/or have different dividers. Some created optical illusions as you saw them shining in the light, and each one was a variation on the theme.  The light from outside created very cool shadows and highlights in each piece, and I can imagine that every day at every hour they look somewhat different.
Judd was definitely interested in the box shape.  One of his other installations at the foundation is 15 sets of rectangular boxes that are again open in different ways and grouped differently in the field.  These definitely have changes in every part of the day based on sunlight hitting them, as well as the surrounding fields and skies.  We were there on an overcast day and the grasses around the pieces were brown/gold.  I am sure on a day with blue skies and green grasses waving.  Honestly, the kids were over the giant boxes at this point.  They thought that the whole thing was kind of neat, but they didn't "get it" and thought so many of the same things were boring.  We talked a little about exploring every single version of an idea.  But it wasn't their favorite.  
After lunch of some amazing posole at a local coffee shop, we hit one more gallery, The Ballroom, which had five completely different types of work by one artist Solange Pessoa.  This exhibition was much more approachable for the kids as she created organic shapes from natural materials, including for example, one whole room of paintings where she painted with mud on canvas.  
Marfa has a ton of cool little shops, and luckily on Thursday more of them are open.  We stopped in one shop where a gentleman makes gorgeous shoes from leather with old-fashioned tools, and he was generous enough to explain a bit of his machinery to us.  One of the best shops we went into (with the coolest name, too:  The Wrong Store) had art, jewelry and pottery and we found a pretty ceramic tray and bowl that we are excited to have at home to remind us of our time here.  We also stopped into a shop selling all kinds of crystals and rocks, and picked up some selenite (whole crystal that is what makes up the gypsum fields at White Sands) and some champagne calcite.  We poked around the historic hotel, Hotel Paisano, which has an amazing courtyard and would definitely be somewhere I'd like to come back and stay with Dennis.  Finally, in our quest for locally roasted beans, we pulled into Big Bend Roasters, expecting a little coffee shop that sold some beans they roasted.  We were surprised to find that it was actually a full on roasting business that sells coffee all over the region, with no coffee shop on site, but luckily a retail business for the beans.  We picked up a pound and were excited to try it the next day.
Our final dinner in Marfa was at the Hotel St George, a rather modern hotel that was built by Marfa's current patron Tim Crowley.  It was a pretty good dinner, but what made it interesting was that we recognized him, his son and his mother at the next table over.  We recognized them because there had been a fascinating article in Texas Monthly that month about "The Battle for the Soul of Marfa" which painted him in less-than-rosy light.  On top of that, I picked up a copy of the local weekly paper when we were having our posole, and it was full of letters to the editor fuming about the Texas Monthly article.  So.  Local drama about the big fish in a small town.  Exciting!