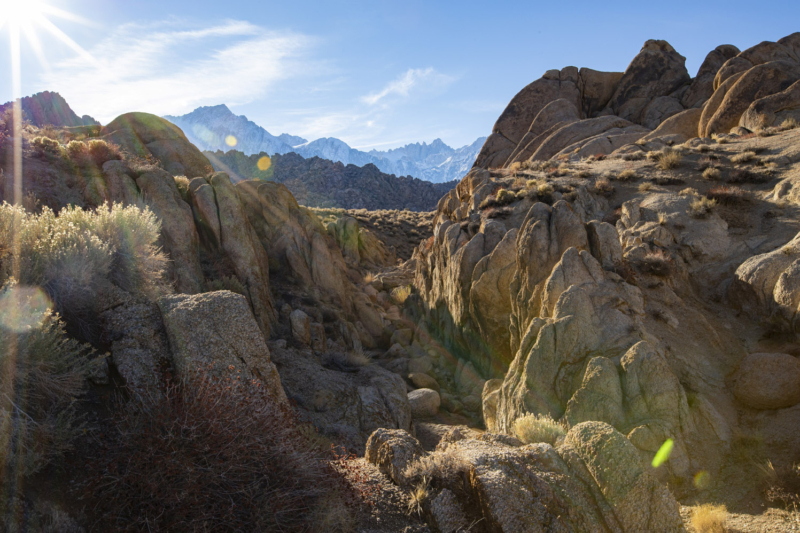 Giddy Up, Cowboy!
Alabama Hills is a stop we found through Instagram.  Neither of us had heard of it, but we saw some pictures of it that looked absolutely incredible, and it was mostly dispersed camping (meaning sites that are few and far between, with no hookups), so we added it to the list.  As we traveled across California and people asked us where we were going, even native Californians didn't know about it…so this was either going to be terrible of the world's best camping secret.
Well, spoiler alert:  it was an amazing secret because after our three nights there, we all agreed it was our favorite camping site so far.  Not necessarily our favorite stop altogether (there are some big contenders to beat for that title), but hands down our favorite campsite.  The area is a wide valley full of stacks of giant rounded boulders that look almost too cool to be real.  Dramatic mountain ranges frame the sides of the valley — to the west is the Eastern side of the Sierra Nevadas, including Mt. Whitney which Wyatt has been wanting to see.  It's sharp teeth are easy to pick out and it looks intimidating enough for you to wonder that anyone would ever try to scale it.  The Inyo Mountains sit to the east, turning purple in the evening sun.   We found a site that sat on the West side, under one of the huge boulder piles, with an amazing view of the valley and the Inyos.
During our three night stay, the kids loved exploring the area and scrambling over boulders.  We got out the BB gun again, and all of us did better than the first time, shooting tiny holes into a Gatorade bottle.  I made a big pot beef stew in my cast iron dutch oven over the campfire.  And every time you looked up from whatever you were doing, there was the magnificent view.  We lucked into being there with a new moon and clear skies, so at night the stars were in full view and Dennis got some great night shots.  We could see a few fires of other campers twinkling here and there across the valley, but far enough away so that you really felt like you had the open land in front of you.
You can't help to pick out shapes in the rocks, kind of like with fluffy clouds.  We saw faces, bears, dogs, a loaf of bread, and all kinds of other creatures and items in the rocks.  Even though we looked for it, somehow we could never find the Bowling Ball and Pins, though.  One of the more famous natural features in the area is the Mobius Arch, a natural arch carved into the granite that is an easy half mile hike from the trailhead.  We walked there from our campsite and enjoyed it with about 20 of our new best friends.  (So, side note, we are REALLY getting spoiled with all this off-season travel.  We are so used to having trails and whole exhibits nearly to our own, that when we go somewhere with *dozens* of people, it seems crowded and chaotic and not at all calming….!)
Even though we claim Alabama Hills as a "secret," it's actually a very famous place, and nearly everyone has seen it before…they just don't realize it.  HUNDREDS of movies and TV shows have been filmed there, especially westerns.  From the 1920s through the 70s, pretty much every western star made movies and TV shows there, including the Lone Ranger, Bonanza, Gene Autry, Roy Rogers, etc. etc. etc.  The little town of Lone Pine that is at the entrance to the area has a movie museum, and even hosts an annual Film Festival celebrating the role that the area has had in so many movies.  And not all the movies shot there were westerns.  Iron Man, Tremors, Star Wars, Star Trek 5, Gladiator, Django Unchained were also filmed in the area.  After we found this out, we went back and watched Iron Man, and immediately recognized the backdrop as the Alabama Hills.  We also bought a set of singing cowboy westerns and watched Gene Autry in a caper of mis-identification.  The kids liked Iron Man better…
Not even 20 minutes from Lone Pine is Manzanar, one of the 12 internment camps that housed Japanese Americans during World War II.  Manzanar had 10,000+ residents at one time, and we learned a lot about their experiences and hardships through the movies and exhibits that featured people who had been there.  We toured one of the remaining buildings and gardens and drove the grounds, which were so large…the size of that drive around the grounds and the fact that the residents could have filled the lower level of Rupp Arena made it very real to us.   It was a sobering place to be…the backdrop of all that natural beauty paired with the ruins of a moment where our nation forgot one of its founding ideals.
Definitely glad we visited and a stop we'd highly recommend for anyone in the area…just hard to see and process.