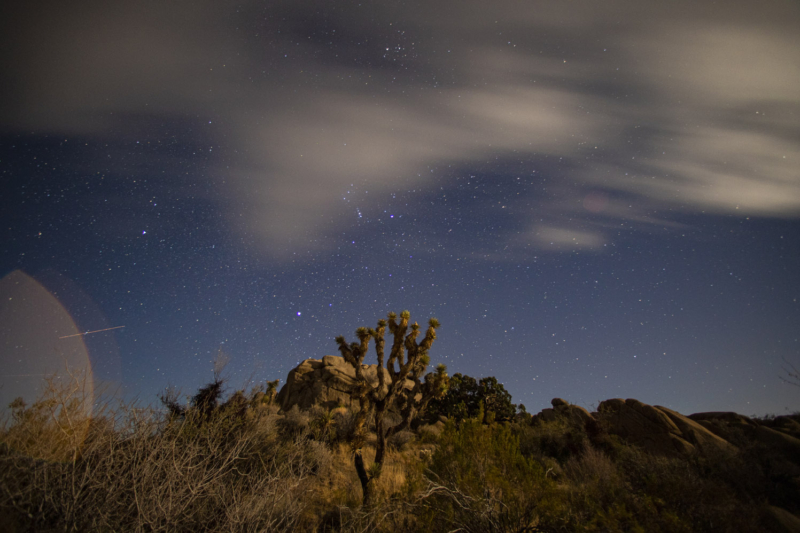 An Oasis in the Desert
The drive from Las Vegas to Joshua Tree is about three hours, and two hours and 45 minutes of that is through the middle of the Mojave desert.  As in, drive for 20 minutes and not see a single other car, and signs that say "No services, next 100 miles."  We passed sand dunes, Joshua tree forests, dry washes, and acres and acres of crispy brown sage and not much else.  After about a full hour into the dry desolate landscape, we pulled over to make some lunch at an old train station that isnow a ranger station at a railroad junction called Kelso.  It was a point where trains got second engines to make the push over the mountains, and military members got lunch back in WW2.  The lunch counter and the ticket office are still in the building and it was a really cool thing to see — even though we had to peek in the windows because they weren't open on Tuesdays.
After passing through Amboy, where there are salt mines along the road making very weird rows and rows of dirt pyramids in a dry lake bed, we finally made it to Joshua tree after dark.  We found our spot and set up, going to bed ), it was dark.  So, we woke up the next morning surrounded by giant, rounded-off boulders all heaped up on one another…just like the boulders we loved so much in Alabama Hills and terrific for the kids to scramble all over.  But, instead of being surrounded by giant mountain ranges, these had Joshua Trees for neighbors.   Also like Alabama Hills, you can make out all kinds of images in the rocks.  One of the more famous rocks, Skull Rock, does not take any imagination at all to see why it was named so.
Joshua Tree is indeed a desert, but it sure is a lush one, if I can use lush to mean that there is so much greenery…sure it's cacti and other low-water plants, but there is far more of it than we've seen in other places, and with such variety of shape and color that they really fill in the scenery.  And, there are indeed oases in small patches in the park, with giant palms and even more greenery.  The cholla cactus garden is so CUTE!  The plants have so many needles that they look fuzzy.  It's no wonder they had to post warnings all over the place that the cactus can drop dangerous balls of spikes that attach to you and cause significant pain.
One surprise to Dennis and me was the number of Joshua Trees we would actually see in the park, and in the Mojave Desert.  Based on news stories, we both were under the impression that the tree was limited in number, and expected to see a few of them during our stay.  We were surprised to see full "forests" of them, stretching all way to the base of the mountains like a weirdly shaped orchard.
One afternoon, while it was raining (what is it with us and it raining in the desert, anyway?!?!?), we decided to put the 4 wheel drive on the truck through it's paces and go out on the geology tour road.  It is mostly just a little bumpy as you go through the ridges and down into a dry lake bed valley and back, but in a few spots it does get a bit rocky.  It's good to get use of the trucks full power, once in a while…I guess Dennis really will be a big truck guy by the time we get through this trip.
Unfortunately, we have been on a real dry streak lately when it comes to wildlife in the parks.  Supposedly the desert tortoise, tarantulas, roadrunners, big horn sheep, coyotes and rattlesnakes all call Joshua Tree home.  All we saw was a bunch of rabbits, though.  We started this trip out seeing so many animals…I really hope our luck returns soon.
We did hit some luck with our camping neighbors, though.  It turns out that two other full time families, one in an Airstream like ours, was just a few sites away.  They have kids the same ages as ours, and Maya was so happy to have some friends to do crafts with for a few days.  She was in heaven.  Dennis and I loved trading thoughts on different sites we'd been to, and hearing about how they are doing with homeschooling.
From Joshua Tree we headed to Hollywood's favorite desert oasis, Palm Springs.   We were only there a few nights, and had reserved a spot in one of the few campgrounds we could find with availability close to town that wasn't 55+.  And whoa…it was FANCY.  Well, it was fancy by our standards for RV parks.  Big free-form heated pools, a workout center better than most hotels, and lush grass at every spot.  Once we got the laundry caught up, we took the kids down to Palm Springs to see some of the kitsch.   Our first night dinner was absolutely delicious at a laid back Italian place called Birba.
We had read that you can't go to Palm Springs without getting a world famous date shake, so we headed to one of the original date farms, Shields, to try it out.  The Sheilds farm has three claims to fame:  inventing date crystals, inventing the date shake, and an educational presentation they've had since the 1950's named The Romance and Sex Life of the Date.  That risqué title (it was the 1950's after all) caused all kinds of people to pull over, and moved Sheilds from one of the pack to one of the leading date gardens.  Of course, people didn't pull over for the film, but for the dates.  Yeah, sure…as Dennis and I learned in marketing, sex sells.  You can also watch the video on their website…you know you want to!
The next day, we drove through one of the iconic neighborhoods full of mid-century modern homes and atomic ranches. We all appreciated seeing the distant cousins to our home back in Kentucky.  We also really wished we could have a courtyard like so many of them out here have…but it just wouldn't be the same without the Palm Springs weather to match.  We wrapped up the MCM day at the pastel-colored Saquaro hotel, one of the poster-child hotels for cool-again MCM vibes.  Dennis and I both agreed that Palm Springs is a place we'd like to come back for an adult weekend getaway.  Maybe 2021.