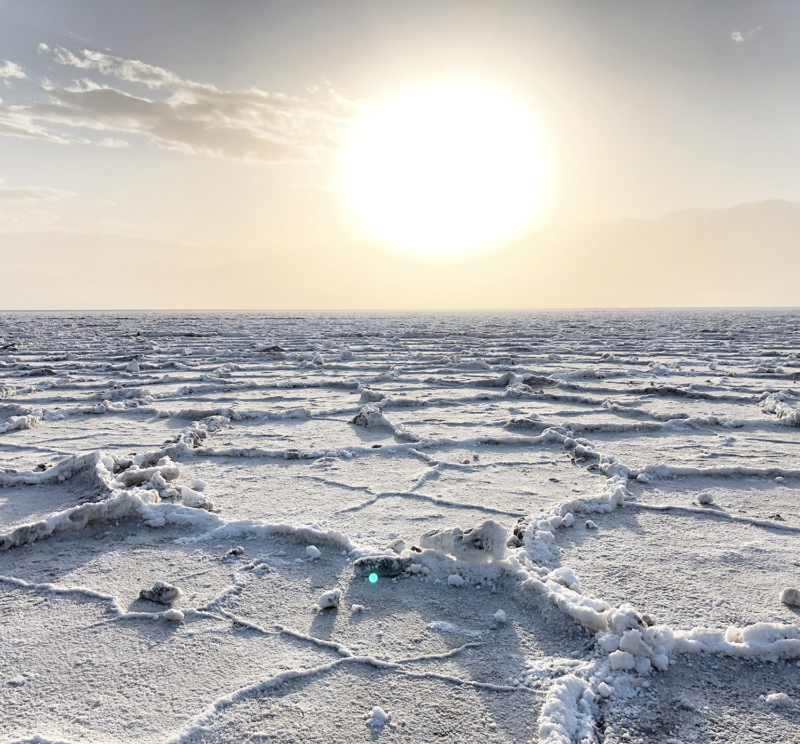 Death Valley is Very Much Alive
We headed to Death Valley from the Alabama Hills with mixed expectations.  Wyatt expected it to be great because he'd heard it was one of the most popular national parks.  Dennis expected it to be a one trick pony because all he knew of was the dry, caked salt and mud flats.  I expected big things because my friend Layla told me her family was blown away when they had visited.  And Maya thought it would just be a bunch of sand dunes.
Luckily it met up to the expectations Wyatt and I had, and was way more than Maya and Dennis had thought it would be.  For one thing, it's so varied…it's not just a desert.  There are certainly big dry lake beds with cracked earth and the crusty salt of Badwater Basin, and also sand dunes.  But there's also a volcanic crater, slot canyons, colorful rock formations, and badlands that you can view from above, as well as mountain ranges that even got snow showers while we were there.  
Yes, there was snow, up at the higher elevations.  That was certainly a surprise for us.  We were at the hottest place on earth…just not when it was hot.  We all expected to be at least in the 70's, I think…but the joke was on us because it was in the 50s, with lows in the 30s!   Luckily we were able to just layer on a bunch of gear and go play.  Beyond the cold, though, it also rained!  Some years Death Valley won't get rain all year long.  But it rained two days while we were there.  
We pulled in and set up in our campsite with plenty of time to actually head out and explore a bit.  This is not usually the case…typically by the time we get to where we are going and set up, we don't have much time to "play" before dinner.  One thing that really helped us for Death Valley is that we actually had a camp spot IN the park.  We haven't had many yet, but we do have quite a few reserved over the next few months.  It's really advantageous because most of the parks are really big and the "good stuff" is in the middle.  So when we don't stay in the park, we drive 45 minutes or an hour in every day before we even get to start exploring.  You are way more isolated, though, and often have limited food choices.  But, we all agree that it's worth it and just load up the fridge.  
We hit some of the "main attractions" that first afternoon.  Badwater Basin is the lowest point in the contiguous US at -272 feet, and there is actually a little pond there, but it's mostly a dry lake.  The salt and minerals in the soil form a surface of crystals in a giant geometric pattern, and if you walk far enough out it's just a white crunchy lake bed all around you.  As you look back toward the hills behind the parking lot, there is a "Sea Level" sign at, well, Sea Level…and it really drives home the point of how low you are.  Looking up at it and imagining being that far underwater was crazy.
From there we went to the Devil's Golf Course, which is another big bed of crunchy crystals mixed with soil, but this time they have bulged up out of the ground and created mounds that are solid enough to bear your weight.  Some of them have cracked open and you can see the hard shell with a hollow base.  Very strange to see in person.  
Our next day we set out to hike the Mosaic Canyon.  It's a fairly short hike, but takes you through canyons that include marble that has been honed to a smooth, slippery surface, and a rock that looks like mosaic because it is little bits of other rock held together with a kind of natural concrete.  We haven't seen any slot canyons on the trip yet, and these were a beautiful introduction to them.  The kids loved sliding over the smooth marble, and we all had a good laugh over Wyatt trying to drag me up one of the slipperier portions, when I could only get half way up.  Dennis went another way.  
We capped the day with a stop at the Mesquite Sand Dunes where the kids loved jumping, climbing and sliding all over the sand.  I wish we had brought cheap plastic sleds…for sure we will get some in time for our next sand dune stop.
Our third day we explored Artists Drive, with rock formations that look like someone has spilled a can of paint (or colored whitewash) over the tops of the rock.  There was gold, lavender, and a sea green that perfectly matched Maya's hat.  One interesting thing about Death Valley is that you are welcome to walk almost anywhere you want…if it's not marked to stay off, you can walk on it.  So in this case, we climbed right out onto the colored rocks and made our way back through the canyon.  
As we were on our way in, Maya spotted a natural arch in the rock above the road and was so excited about it that we HAD TO STOP on the way back and check it out.  We climbed up the steep hill of loose rock and sure enough it was a cool arch.  We assumed of course that we were the first ones to ever climb up there and claimed it as "Maya's Arch."  Maybe it was some super important arch with all kinds of history and is named after a past president in real life…but to us, it's Maya's Arch.
We also found Zabriskie's Point, where there is an absolutely stunning view that includes a huge area of badlands, the dry lake bed near Devil's Golf Course, and the mountains on the west side of the valley.  The streaky rocks of the badlands were yet another of the diverse geological features in this park.  
Thanksgiving was part of our stay at Death Valley, too.  In all honesty, we are all getting more than a little homesick and looking forward to heading home for the holidays.  So, Thanksgiving had a bit of a pall on it for that reason alone.  But, we did enjoy a Thanksgiving feast with turkey, gravy and *almost all* the fixings, and we all realized we have SO MUCH to be thankful for.  Being able to explore what we have seen as a family, and Dennis and I getting to spend all this time with Wyatt and Maya at their ages is absolutely an unmeasurable gift.  And, so many friends and family supporting us so that our (let's say it….selfish, I mean really this is an indulgence of the biggest scale) journey can happen…by taking care of our cat and our mail and our bank accounts, and so many other things…we are truly blessed.
But there was even more to see, and we needed to tackle it!  For Black Friday, we visited the Ubehebe Crater (which is really fun to say, btw), a ginormous hole in the ground that was blasted out by volcanic activity thousands of years ago.  We hiked right along the rim and stared down into the big crater as well as several small ones surrounding it.  There was a tiny bit of snow from the previous night still up there, so we can also now say we hiked in snow at Death Valley.  
We didn't even get to see all of Death Valley's features.  Which is true of most of the parks we visit…three, four or even five days is not nearly enough to "see it all."  But, we saw enough to be amazed at the diversity of what was there and to feel like it was absolutely worthy of the National Park designation.