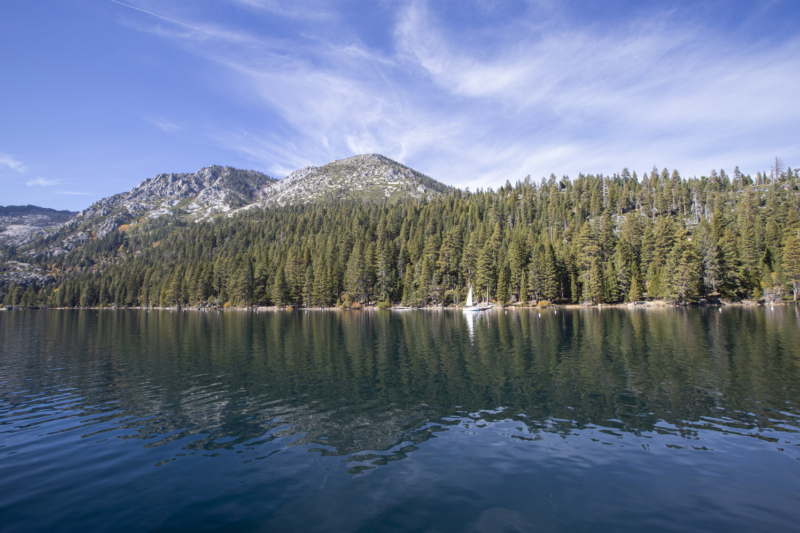 Lake Tahoe:  Deep Blue Depths
After our good time in Bodega Bay, we headed over to stop 2 with the Duane/Carrico gang: Lake Tahoe.  But first, the Jelly Belly factory was on the way! And who doesn't love Jelly Belly's?  Well, Wyatt doesn't, but he doesn't like a lot of candies, so that doesn't really count.  The rest of us were pumped to see (eat) the baby candies being made, and Wyatt was good with tagging along…as long as he didn't have to eat any.   Unfortunately the factory wasn't running (Saturday), but we toured the line and saw the process via videos that explained what you would be seeing.  And the scale of how many Jelly Bellys come out of there is pretty insane.  Each of the trays in the picture holds 25 pounds of the beans…and there are thousands of trays.  
After the tour, you can be sure we each gathered a bag of our favorite flavors….but they also gave us a few boxes of the Beanboozled beans.  When they first came out (probably 20+ years ago! :o) I had a package during a road trip that Dennis and I took with his parents.  Poor Dennis tried about 10 of them and probably only got about 2 good ones, while I laughed and laughed hysterically.  Well it seems like it may be his life long curse, because in this batch he got dead fish, stinky socks, and grass clippings.  Maya got two good ones and one spoiled milk.  She dodged a bullet by getting chocolate pudding instead of dogfood.  Shew.  
We rolled into Tahoe, coming in over the top of the lake for better driving conditions.  That also gave us a nice view of the gorgeous blue waters as we got near…and they are truly as beautiful as advertised.  Once we checked in, we went over to the condo our aunts/uncles had rented…again, a full kitchen, washer dryers and even and extra bedroom…definitely luxurious when you have been in 200 sq ft.  The water had kicked up on the lake, making it look like something you'd never want to swim in (this is foreshadowing, btw…) and we went to dinner at a local brewery to plan for the week.
Our first full day we woke up to crystal clear blue skies and calm waters.  Sally and Joe had visited before and suggested we drive around to Emerald Cove, where we could hike down to the Vikingsholm Castle, a "summer home" that was built by a rich heiress in the 30s.  The view of the lake from up top was stunning, and the castle itself was like a Scandinavian cottage (if you can call a mansion a cottage, that is) from a fairy tale. I am definitely jealous of the guests who got to stay there back in the day…especially the ones who got to row out to the island and have tea in the stone cottage on top.  
We also stopped at Taylor Creek because we'd been told the salmon were running and even though we'd been hearing about salmon for the past 3 months, we hadn't seen any in the wild.  We walked back a short path to a shallow river/creek…and there they were:  hundreds of reddish fish that were about 12 inches long just hanging out in the water.  Actually it turns out they are resting after coming over an obstacle before going on to the next obstacle.  I'm completely fascinated that salmon, after 2-4 years, can find their way back to the very spot where they were hatched to spawn and then die.  We learned all about the salmon lifespan, including that they start to die from a fungus that breaks down their flesh from the inside.  Yuck!
Our second day in Tahoe, we drove over the mountain and into Virginia City, an old-time mining town.  Almost as soon as we came over the pass, there was a distinct change in the scenery…it became dry, brown, and desert-like.  Completely different than the lush green forests from just 10 miles back.  When we got to town we took a trolley ride around the whole town (about 15 square blocks, that is) and learned all about the town history, where gold and silver mines made it extremely populated and at one point the largest town in Nevada even.  Our driver/tour guide clearly loved his job and played the part to the max, telling his stories in a sing-song cadence while he waved to all the locals he knew along the way.  We had greasy burgers in a saloon, bought fudge from the local candy shop, and checked out the "silver dollar dress" at a watering hole.  After lunch we walked down to a beautiful Catholic Church that had been part of the town for well over a hundred years.  While there we lit candles and said some prayers before heading back to the lush side of the ridge.
We got out on the water for our last day together, taking a paddlewheel tour of the lake with about 250 of our closest friends.  Again, we had gorgeous weather — the clear skies and bright sun made all three days in Tahoe feel absolutely perfect and far warmer than 65 degrees.  The boat took us across the crystal clear water and back into Emerald Cove, where we got a different view of the castle and island with the tea house.  
After we got back, Dennis took the kids to a local pump track park where they had an absolute ball on the dirt jumps and banks.  While they were gone, I took the SUP out onto the lake.  It was gorgeous…I had the entire lake to myself in the afternoon sun and could see the lake bottom most of the hour+ that I was out there.  I was feeling pretty good about getting out on the lake and started back in, when at about 50 feet left to get to the dock I fell in.  It was COLD.  Sixty-four degrees cold, to be exact.  I'm not sure that a person has ever gotten back on a SUP as quickly as I did.  I booked it back to shore and was hurrying back up to the condo, just when Sally and Bonnie came around the corner.  Where were they when I needed to be rescued 5 minutes earlier?   
Once I was showered and warm again, I made a derby pie for Dennis's birthday and we celebrated a day early before we separated and the Duane/Carricos made their way back to Louisville.  I'm so happy that we had them there to add a little extra flair to his birthday.