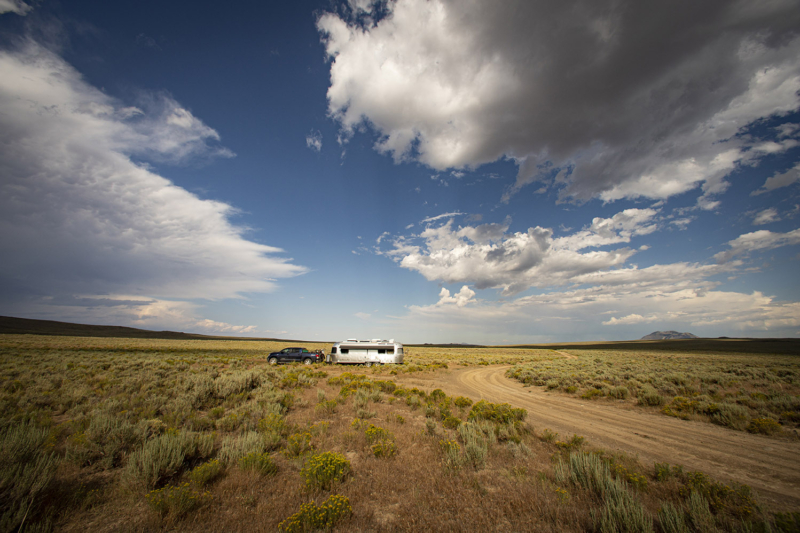 We boondocked on BLM land…
The whole point is to get away, to get out in the wild open and really experience nature up close and personal, right?   While KOAs are convenient, that's not exactly the experience you get in one.  We prefer state and federal campgrounds, but many either don't take reservations or were full when we started booking.
When we started planning for the trip we found out that there are thousands of acres across the country that are managed by the Bureau of Land Management…I think one stat I read said that one in every 8 acres of land is BLM land.  Some of it is parks and more developed, but most of it is set aside "to sustain the health, diversity, and productivity of the public lands for the use and enjoyment of present and future generations."  Which means that on a lot of the land you can camp for free n the spot of your choosing way out in the middle of nowhere.  You don't have ANY amenities, of course, but since we have our own water and can run lights, etc on batteries, it can work for us.  So, that's our third option for camping.  
I want to take advantage of the BLM options when we are in the southwest, and when we discovered that there was a ton of BLM land surrounding Craters of the Moon, it was sort of the perfect opportunity to have a trial run for a night.  (Our campground in town really didn't have much to miss, either…)
We asked the ranger at the Craters about it and his answer was basically "you can drive back pretty much any gravel road and find a spot, just make sure all the wheels of your vehicle are parked off the road."  Then he gave us a travel map of all the BLM land.  I feel like this was a secret map, in fact, because it was the FULL property (not just the developed portion of the park, which is what you get as a visitor to the park) and it had more features you could visit, if you have 4X4 or are a crazy long distance hiker.  This map is how we found the blue lava flow.  
The map is about as developed as the roads are, though.  You HOPE that you are where you think you are since nothing is marked, there aren't distances to help you out, and the roads are like the scribbles of a toddler.  In fact, since the land is leased out to ranchers for grazing, there are some 'bonus' roads the ranchers use that aren't on the map.  Anyway, we scoped a good spot while we visited the lava flow, and then packed up and headed out.
Dennis and I both had some level of anxiety about boon docking.  I mean, you are out there in this free, open, isolated land….but you are also out there in open isolated land.  I know what a bunch of bored, drunk rednecks might think is "entertaining…"  Maya also didn't understand why we wanted to camp in the middle of nowhere.
Our experience was awesome.
We set up in our spot at around four and other than a few horse trailers coming through, we didn't see a single soul the entire time.  We had a clear view of the open range for miles, with Great Southern Butte on one end and some of the cones in the other directions.  
Dennis has a BB gun and Wyatt has a bow and arrow that we haven't been able to shoot yet, so we set those up and the kids had a blast trying to shoot beer cans out of the sagebrush (note:  maybe we are the rednecks in this story?).  Maya turned out to be the best shot of all of us with the BB gun.  I guess she learned more than poker while we were in Deadwood.  
After it got fully dark, we went out to check out the "dark skies" and they were fantastic.  It was a clear night so we had all the skies laid out for us with the Milky Way as a clear ribbon across.  Maya, who grudgingly went out because she was cold, was almost giddy and was chattering away at how pretty it was…especially after she spotted her first shooting star.  
The only downside was the dust.  After pulling the camper 8 miles in and out an 8 mile gravel road and parking on a dry dirt road, there was dust covering every surface of the camper, inside and out.  Including inside the drawers.  We are still wiping it up.  But, small price to pay..
We all agree that it has been our favorite camping spot thus far.  I can't wait to get to do more of it.